Jesse Churchill
General notes:
Silversmith
Events in his life were: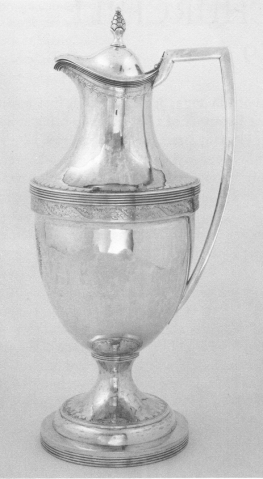 Flagon, c 1800
Museum of Fine Arts, Boston 10
h: 15 5/8"
d: 5 3/4" (of foot)
wt: 38 oz, 11 dwt
One of a pair. Engraved in wreath surround: The / Property of the Church / at / West Boston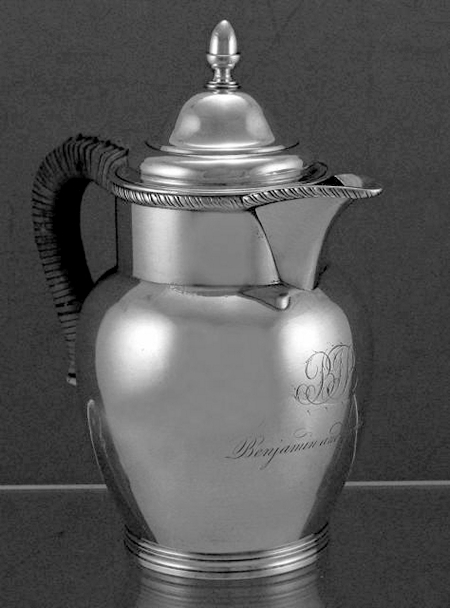 Jug, c 1800
Private Collection
h: 7"
wt: 15 oz.
Engraved "BJB over Benjamin and Judith Bussey"
Buhler:, . 10
In 1802 he had made a flagon for the South Congregational Church in Andover, Massachusetts. In 1805, when his absence from the Boston Directory is conspicuous, he made flagons and plates for the First Religious Society in Newburyport, Massachusetts. Churchill and Treadwell made silver dated in 1813, "Presented by the Citizens of Boston ... to Com. O. H. Perry . . ."; Daniel Treadwell, younger brother of Isaac Dodge Treadwell of Newburyport, is recorded to have served as Churchill's apprentice and very briefly as his partner. In the Boston Directory of 1811, Churchill's shop was at the 1809 address but his house was in Newbury Place. The church in Bedford has a flagon dated 1817 and two beakers dated 1818, the year before he is thought to have died.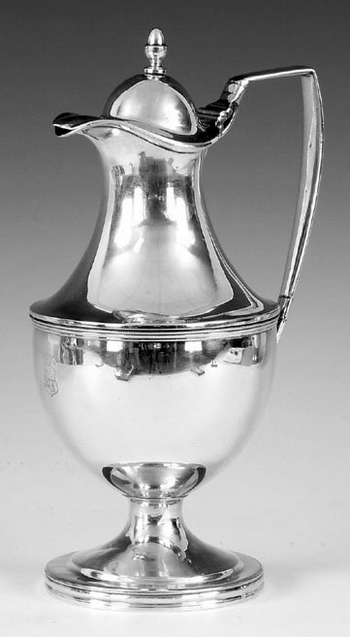 Claret jug, c 1805
Private Collection
h: 11 3/4"
wt: 35.2 oz

He was a partner circa 1810-1813 with Daniel Treadwell in Boston MA as CHURCHILL & TREADWELL, with a shop at 88 Newbury Street in Boston. 3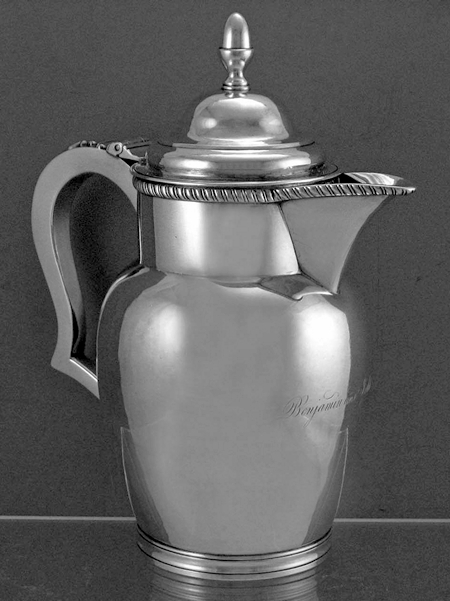 Jug by CHURCHILL & TREADWELL, c 1810
Private Collection
h: 9 1/2"
wt: 27.5 oz.
Engraved "Benjamin and Judith Bussey"
Master to Moses Morse Abt 1806 in Boston MA. As member of CHURCHILL & TREADWELL 1
Boston MA, 1809: listed in the Boston Directory, his shop being at 88 Newbury Street, his house on Pleasant Street. 3
Boston MA, 1810: a member of the Massachusetts Charitable Mechanics Association. 3
Master to Benjamin Bailey Abt 1810 in Boston MA. As member of CHURCHILL & TREADWELL 1
Master to Lewis Carey Abt 1811 in Boston MA. As member of CHURCHILL & TREADWELL 1
Wine cooler, c 1813
Mead Art Museum
h: 9 9/16"
w: 8 1/2"
Engraved "Sepr 10th 1813 / Signalized our first triumph in squadron / A very superior British Force on Lake Erie / was entirely subdued by / Com. O. H. Perry / whose gallantry in action is equalled only / by his humility in victory"
Boston MA, 1817: the children and heirs of Thomas Revere requested that "Mr. Jesse Churchill Silversmith of Boston" be appointed administrator of the estate. 10