Moses Morse
General notes:
Silversmith
Events in his life were:
Apprenticed about 1806 to CHURCHILL & TREADWELL in Boston MA 1

Countermarked coin, c 1813
Private Collection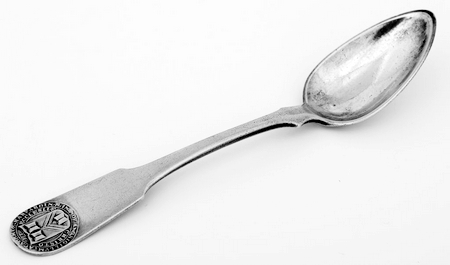 Place spoon, c 1825
Harvard Art Museum
l: 6"
From a large set of various spoons bought for use in the college Commons.
Master to Charles West in Boston MA. 1
Master to J. Millar in Boston MA. 1
Flynt & Fales:, . 3 Listed as "Silver Plater" in the Boston Directory, 1821, and as silversmith between 1825-30. Retired in 1830. The Columbian Centinel (June 23, 1832) lists death of a Moses Morse, age 30, but does not indicate whether or not he was the silversmith of that name. First Church Unitarian in Cambridge, and First Congregational Church in Duxbury have silver with his mark.