Andrew Tyler
Born: Bef 29 Jan 1692, Boston MA

Marriage (1): Miriam Pepperell on 25 Apr 1715 in Kittery ME

Died: 12 Aug 1741, Boston MA
General notes:
Silversmith
Events in his life were: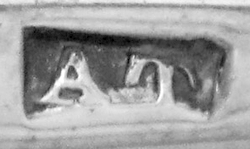 Appointed in 1720-1727 as Scavenger, assessor, and fireward in Boston MA 4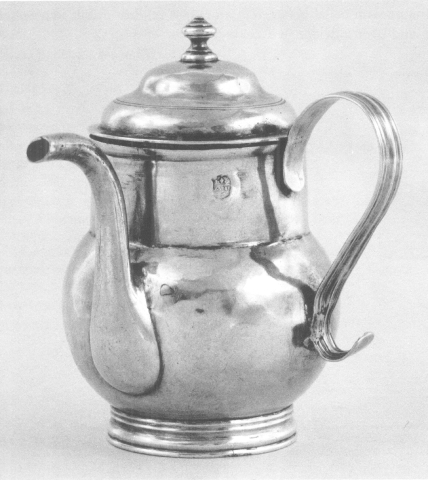 Spout cup, c 1720
Museum of Fine Arts, Boston 10
h: 4 7/16"
d: 1 15/16" (of base)
wt: 6 oz, 15 dwt
Engraved S over I E (covering original monogram) for Isaac and Elizabeth (Storer) Smith and listed in his inventory of plate.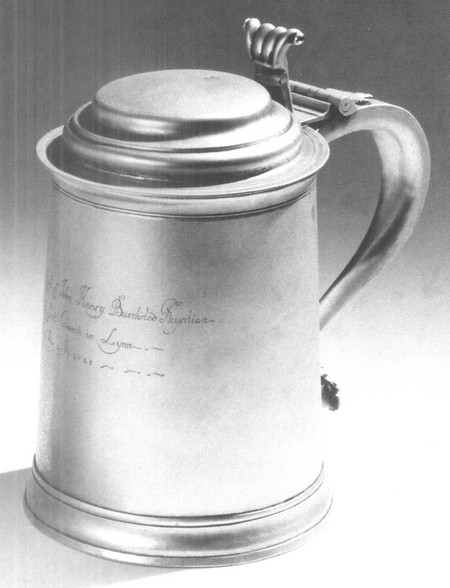 Tankard, 1721
Private Collection
h: 7 1/2"
Engraved "The Gift of John Henry Burchsted Physitian / to the First Church of Christ in Lynn / Sept the 25th 1721." Burchsted died 20 September 1721.
Appointed in 1729-1732 as Selectman in Boston MA 4
Mug, c 1735
Private Collection
h: 4 1/4"
wt: 10 oz.
Engraved "The Gift of Hannah Stone To The first Church of Beverly 1735"
Andrew married Miriam Pepperell, daughter of Unknown and Unknown, on 25 Apr 1715 in Kittery ME. (Miriam Pepperell was born on 3 Sep 1694 in Kittery ME.)