Knight Leverett
Born: 1 Jan 1703, Boston MA

Marriage (1): Abigail Buttolph on 1 Feb 1726 in Boston MA

Died: 11 Jul 1753, Boston MA
General notes:
Silversmith
Events in his life were: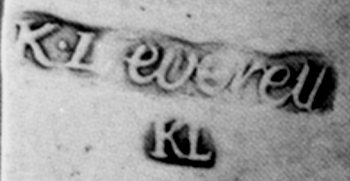 He worked in 1724-1750 as a silversmith in Boston MA
In addition to silversmithing, he dealt in general goods and is described as a silversmith or merchant interchangeably in documents.. Perhaps the paucity of his remaining work is a result of his dual careers. 9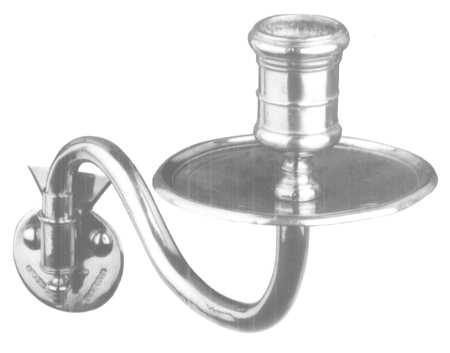 Candle branch, c 1725
Winterthur Library 7
h: 5 3/16"
l: 7 1/2"
Wt: 5 oz, 14 dwt
Engraved RR over 1720 for Ruth (Talcott) Reed.
Appointed in 1727-1728 as Clerk of the Market in Boston MA serving with fellow silversmith, Jacob Hurd. He was also made hogreeve and scavenger, but paid to avoid being a constable. 10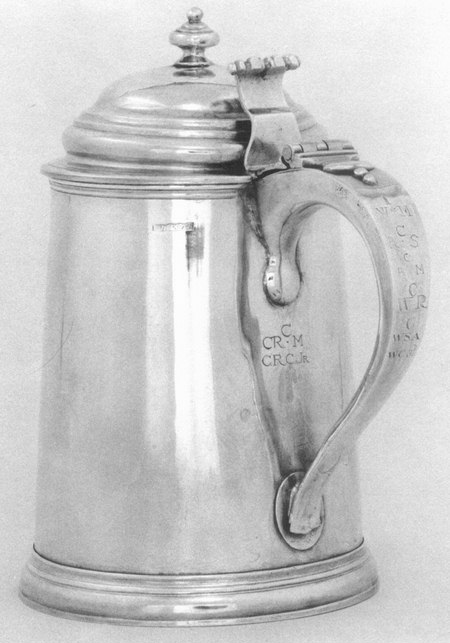 Tankard, c 1730-1740
Museum of Fine Arts, Boston 10
h: 8 5/16"
d: 5 1/16" (of base)
wt: 25 oz 8 1/2 dwt
Engraved (among others) I over W M for William and Martha (Pierce) Johnson.
Sword, c 1735
San Francisco Museum of Fine Arts
l: 35 1/4"
Buhler:, . 10
He was a great-grandson of Governor John Leverett, whose order of knighthood conferred by Charles II is thought to have been the source of the boy's name. His uncle, John Leverett, was president of Harvard College. The settlement of the estate of Sarah Dennie in 1752 records: "To Cash pd Knight Leverett his Bill for rings for funeral £ 136-11/Jacob Hurd for a ring for funeral [£] 5-16." He died in 1753, intestate and insolvent; one of the appraisers of his estate, which included fishing equipment, was Jacob Hurd; its total value was but £0.27.15.
Knight married Abigail Buttolph on 1 Feb 1726 in Boston MA. (Abigail Buttolph was born on 23 Nov 1704 in Boston MA and died on 26 Jan 1774 in Boston MA.)