Daniel Parker 10
Born: 20 Nov 1726, Charlestown MA

Marriage (1): Margaret Jarvis on 8 Oct 1751 in Charlestown MA

Died: 31 Dec 1785, Boston MA
General notes:
Silversmith
Events in his life were:


He worked in 1748-1775 as a gold- and silversmith in Boston MA 4
Boston MA, 1748: made snuffbox for Robert and Mary Calef. 4
Advertised in the Boston Gazette (Boston MA), 1750-1770, as a goldsmith 4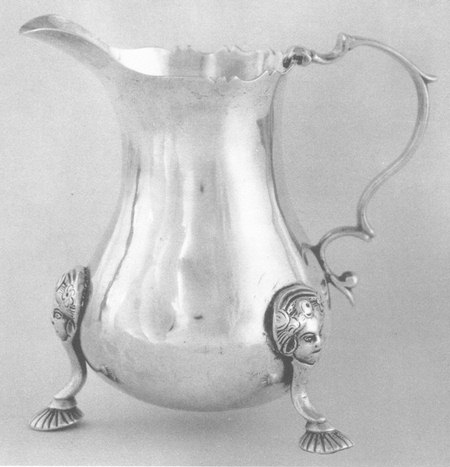 Creamer, c 1750
Museum of Fine Arts, Boston 10
h: 3 7/8"
wt: 4 oz, 1 dwt
Engraved H over I * S for John and Susanna (Touzell) Hathorne.
Advertised in the Boston Gazette (Boston MA), 1759, the theft of " "Three large Silver Spoons stamp'd D.Parker, 12 Tea Spoons, most of them stamp'd D.P., 3 pair Silver Tea Tongs, not stamp'd, one large Gold Locket ... 14 pair large open-work'd Silver Shoe Buckles with Steel Chapes...." 4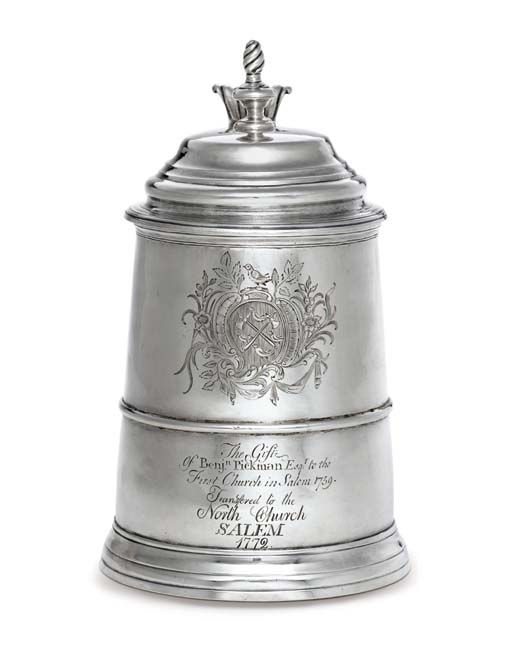 Tankard, 1759
Private Collection
h: 8 1/2"
wt: 28 oz
Engraved The Gift / Of Benjn. Pickman, Esqr. to the / First Church in Salem 1759 / Transferred to the / North Church / SALEM / 1772.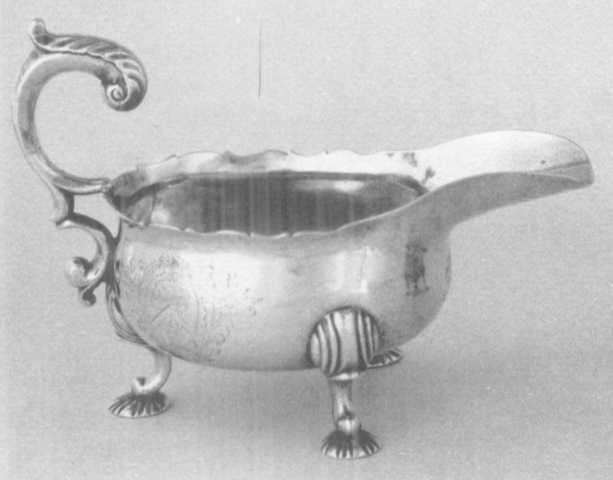 Sauce boat, 1760-1770
Museum of Fine Arts, Boston 10
h: 5 1/8" (including handle)
l: 8" (including handle)
wt: 13 oz, 17 1/2 dwt
One of a pair engraved with Hall arms. The inventory of Benjamin Hall's estate, probated in 1817, lists "2 sauceboats" left to his son Benjamin.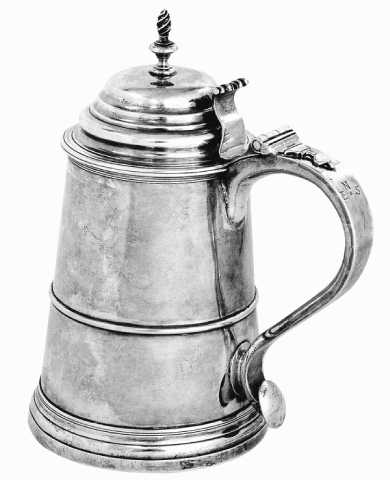 Tankard, c 1760
Private Collection
Engraved N over E • S
Advertised in 1761 (Boston MA), reporting he was again robbed, but the culprits were found. He also then advertised importations of jewelry and goldsmiths' tools from "his Shop near the Golden Ball." 10
Advertised in 1763-1767 (Boston MA), mentioning his Union Street address and that his tools included "Forging & raising anvils for tankards, canns & creampots," and "Death head & heart in hand ring swages."
Boston MA, 1771: had a child of his fall "thru the scuttle at Christ's Church." 10
He worked circa 1775 as a gold- and silversmith in Salem MA though no record is found of his work there. 4
Daniel married Margaret Jarvis on 8 Oct 1751 in Charlestown MA. (Margaret Jarvis was born on 18 Oct 1729 in Boston MA.)