Family Links
Spouses/Children:

1. Ann Camp

Isaac Baldwin
Born: 4 Jul 1790, Newark NJ

Marriage (1): Ann Camp on 3 Mar 1814 in Newark NJ

Died: 5 Sep 1853, Newark NJ
General notes:
Silversmith and jeweler
Mayor of Newark NJ, 1845-1846.
Events in his life were:
He was a partner in 1810-1841 with John Taylor in Newark NJ as TAYLOR & BALDWIN 12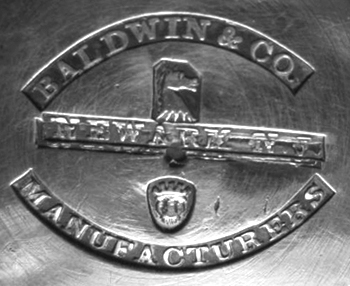 He worked in 1841-1853 as a silversmith and jeweler in Newark NJ as BALDWIN & Co. at 399 Broad Street and 170 Broadway, NYC. The firm also included his sons Horace and Wickcliffe, to whom the shop passed at his death. 12
He was a partner in 1845-1850 with James Madison Durand in Newark NJ as BALDWIN & DURAND, watchcase manufacturers and engravers, listed in Pierson's 1850 City Directory at 6 Franklin Street. 12
Reports of the First Exhibition of the Worcester County Mechanics Association Sep 1848, Worcester MA. JEWELRY & FANCY GOODS, LAMPS, GIRANDOLES, &c.

E. F. Dixie, Charles Rice, Wm. D. Fenno, Committee.

651. A Case of Jewelry, contributed by Messrs. Dunbar & Bangs of Worcester, containing a splendid assortment of Jewelry, &c., such as Pins, Rings, Bracelets, Chains, Watches, (the cases of which only were considered, being of American manufacture,) Silver Combs, Cups, Spoons, Forks, Butter &l Fruit Knives, Napkin Rings, Card Cases, Gold Thimbles, Spectacles, Eye Glasses, Pencil Cases, &&c., presenting a truly splendid variety — of excellent workmanship, and of every form and style. The watch cases were from the manufactory of Baldwin & Durand, Newark, N. J., and were splendidly finished. One in particular was noticed, heavily embossed and chased, surpassing anything ever before seen by your Committee. We beg here to remark that two of your Committee have for many years been, and still are, in the same line of business.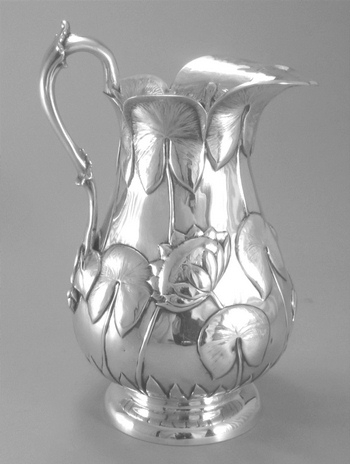 Pitcher, c 1850
Private Collection

Isaac married Ann Camp on 3 Mar 1814 in Newark NJ. (Ann Camp was born on 1 Apr 1793 and died on 12 Jul 1846 in Newark NJ.)