William Daniel Fenno
Born: 16 Dec 1797, Worcester MA

Marriage (1): Frances Rounds

Died: 30 Jul 1870, Worcester MA
General notes:
Silversmith and jeweler
Events in his life were:
He worked circa 1817-1825 as a silversmith, jeweler, and general merchant in Worcester MA
He was working from shop at 104 Main Street by 1820, having taken it over from the firm of EARLE & CHASE. In 1822, he succeeded to the business of his old master, Otis Corbett. 3
Advertised in the Massachusetts Spy (Worcester MA), 1822-1824, offering an ". . . assortment of fancy goods, silver spoons, ear rings, thimbles, gold watch chains, etc." 3

He was a partner in 1825-1849 with Joseph Boyden in Worcester MA as BOYDEN & FENNO, with a shop listed at 160 Main Street in the 1845 city directory. 3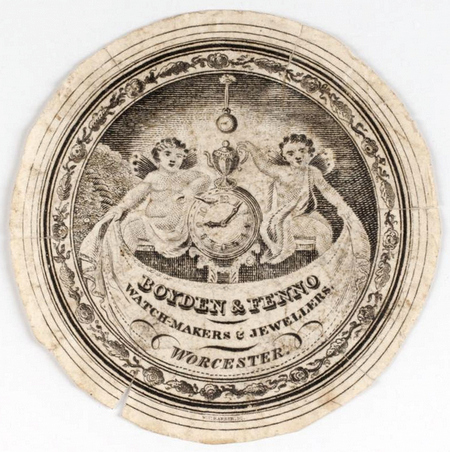 Watch paper for BOYDEN & FENNO
American Antiquarian Society

Reports of the First Exhibition of the Worcester County Mechanics Association Sep 1848, Worcester MA. JEWELRY & FANCY GOODS, LAMPS, GIRANDOLES, &c.

E. F. Dixie, Charles Rice, Wm. D. Fenno, Committee.

651. A Case of Jewelry, contributed by Messrs. Dunbar & Bangs of Worcester, containing a splendid assortment of Jewelry, &c., such as Pins, Rings, Bracelets, Chains, Watches, (the cases of which only were considered, being of American manufacture,) Silver Combs, Cups, Spoons, Forks, Butter &l Fruit Knives, Napkin Rings, Card Cases, Gold Thimbles, Spectacles, Eye Glasses, Pencil Cases, &&c., presenting a truly splendid variety — of excellent workmanship, and of every form and style. The watch cases were from the manufactory of Baldwin & Durand, Newark, N. J., and were splendidly finished. One in particular was noticed, heavily embossed and chased, surpassing anything ever before seen by your Committee. We beg here to remark that two of your Committee have for many years been, and still are, in the same line of business.

He was a partner circa 1849-1870 with Charles William Fenno in Worcester MA as W. D. FENNO & SON. Listed in the New England Business Directory, 1865 and Mercantile Agency Directory, 1867 as dealers in watches, clocks, and spectacles.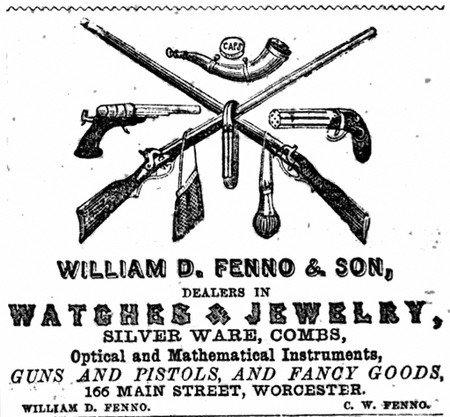 Advertised in the The Worcester Almanac, Directory, and Business Advertiser (Worcester MA), 1856, for WILLIAM D. FENNO & SON.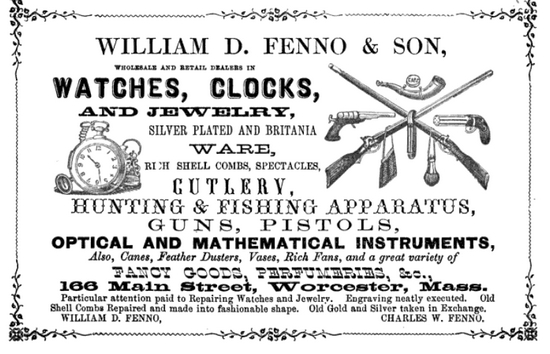 Advertised in the The Heart of the Commonwealth, or, Worcester As It Is (Worcester MA), 1856, for WILLIAM D. FENNO & SON.
William married Frances Rounds. (Frances Rounds was born in 1800 in Providence RI.)