Philip Syng
Born: 29 Sep 1703, Cork Ireland

Marriage (1): Elizabeth Warner on 5 Feb 1730 in Philadelphia PA

Died: 8 May 1789, Philadelphia PA
General notes:
Silversmith
Events in his life were: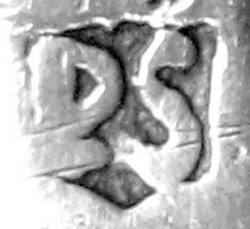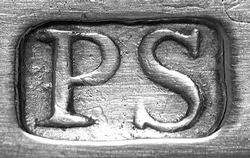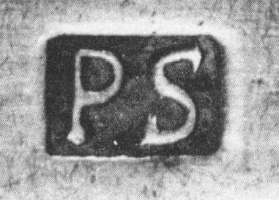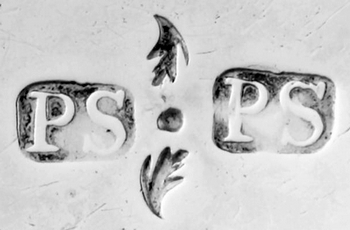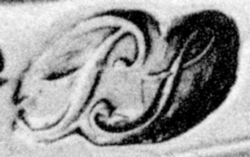 Buhler:, . 10
With Benjamin Franklin he was one of the founders of the Library Company of Philadelphia, the University of Pennsylvania, and the American Philosophical Society. He was a member of the first Masonic Lodge, and held many offices, including that of vestryman of Christ Church, for which Cesar Ghiselin and Syng's father had made silver, and to which Queen Anne had given a service of plate in 1708. Syng is best known for having fashioned, in 1752, the inkstand (at a cost of £25/16/0) used at the signing of the Declaration of Independence.
Apprenticed about 1716-1725 to Philip Syng in Philadelphia PA 1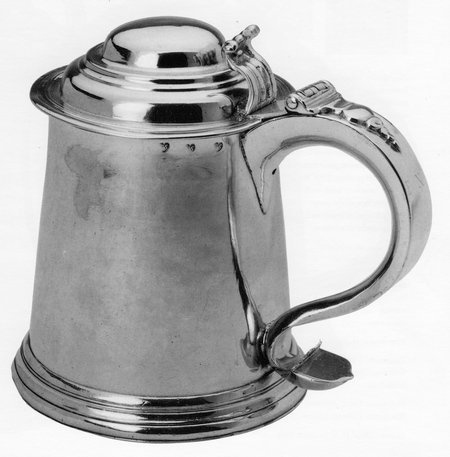 Tankard, c 1741-1747
Winterthur Library
h: 6 7/8"
d: 5 5/8" (of base)
wt: 33 oz, 10 dwt
Engraved E N on handle back for Edith (Coates) Newbold.
Advertised in the Pennsylvania Gazette (Philadelphia PA), 1748, "Engraving on Gold, Silver or Pewter done by Lawrence Herbert from London at Philip Syng's Goldsmith in Front-street." 10

Rattle, c 1750
Museum of Fine Arts, Boston 10
l: 6" (overall)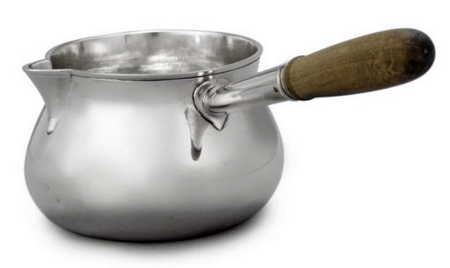 Brandy warmer, c 1750
Private Collection
l: 8" (overall)
wt: 5 oz
Engraved RP to RR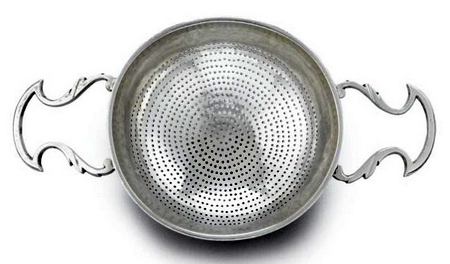 Strainer, c 1760
Private Collection
w: 7"
wt: 3 oz, 4 dwt
Advertised in 1763 (Philadelphia PA), with Joseph Richardson the sale "at their Houses" of the shop goods of Philip Huber, Jr., goldsmith. 10
Advertised in the Pennsylvania Gazette (Philadelphia PA), 23 Sep 1772, announcing "The subscriber having lately removed into Upper Merion township, hereby informs his friends and former customers, that they may be supplied as usual, at his late dwelling, by . . . Richard Humphreys, whom he hereby recommends to them, as a person qualified to serve them on the best terms, and whose fidelity in the above business will engage their future confidence and re­gard.—Philip Syng." 8
Philip married Elizabeth Warner on 5 Feb 1730 in Philadelphia PA. (Elizabeth Warner was born on 29 Jan 1714 in Philadelphia PA, christened on 13 Apr 1732 in Christ's Church Philadelphia PA, died on 3 Oct 1786 and was buried in Christ's Church Philadelphia PA.)