Joseph Moulton
Born: 17 Feb 1814, Newburyport MA

Marriage (1): Elizabeth Coleman on 12 Jul 1838 in Newburyport MA

Died: 1903, Newburyport MA
General notes:
Silversmith and jeweler
Events in his life were:


Flynt & Fales:, . 3 Last in the line of Moultons manufacturing silver in Newburyport and it was he who sold the business in 1860 to Towle and Jones, former apprentices of his father and predecessors of the present company of Towle Silversmiths. He later trained his son Edward M. Moulton, who worked for a few years with him, but did not continue. Another son, William, succeeded to his father's retail business but did not make silver himself. Joseph worked independently from his father and his uncles, Abel and Ebenezer Moulton.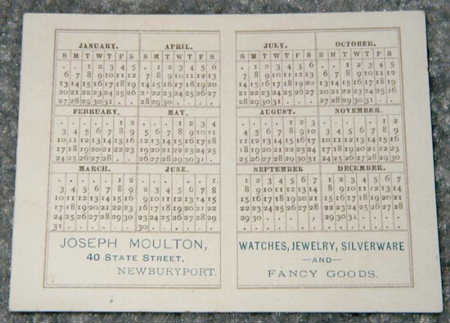 Tradecard, 1889
Private Collection

Joseph married Elizabeth Coleman on 12 Jul 1838 in Newburyport MA. (Elizabeth Coleman was born on 14 Oct 1816 in Newburyport MA and died on 9 Apr 1897 in Newburyport MA.)