Horace Cornwall Wilcox
Born: 26 Jan 1824, Middletown CT

Marriage (1): Charlotte Smith on 19 Aug 1849 in Middletown CT

Died: 27 Aug 1890
General notes:
Pewtersmith
Events in his life were:
He was a partner in 1852 with Dennis Cornwall Wilcox, Isaac Lewis, James Frary, Lemuel Curtis, William Lyman, and John Munson in Meriden CT as MERIDEN BRITANNIA Co. 12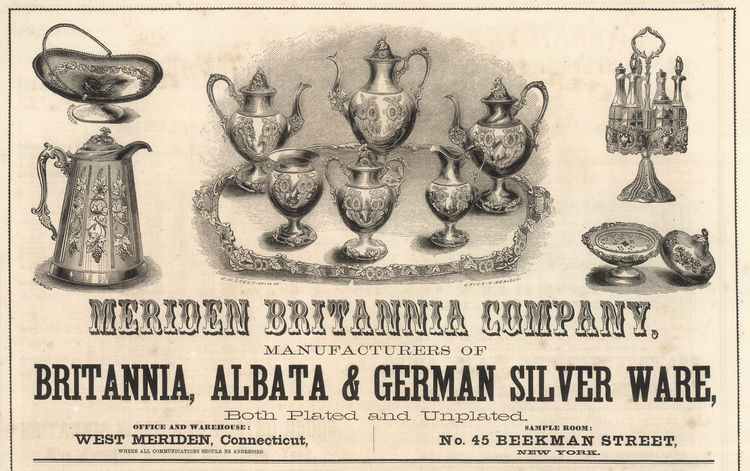 Advertised in the Colton's Advertising Atlas Of America, 1857, for the MERIDEN BRITANNIA Co.
He was a partner in 1865 with Jedediah Wilcox, Charles Parker, Aaron Collins, and Hezekiah Miller in Meriden CT as WILCOX BRITANNIA Co. In 1867, the name was changed to WILCOX SILVER PLATE Co.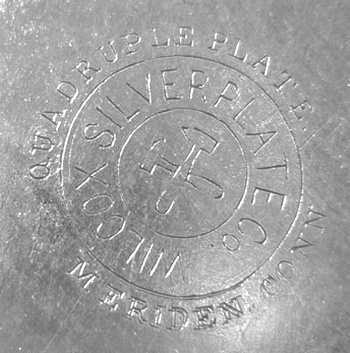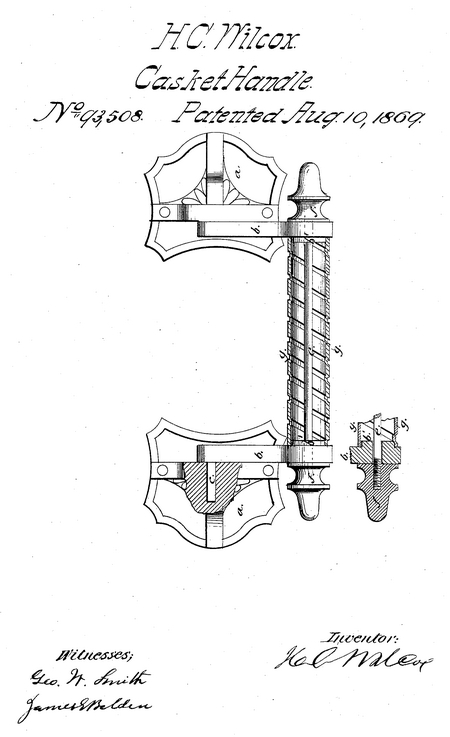 He was issued design patent number 93,508 on 10 Aug 1869

H. C. WILCOX, OF WEST MERIDEN, CONNECTICUT, ASSIGNOR TO THE MERIDEN BRITANNIA COMPANY, OF SAME PLACE.

Letters Patent No. 93,508, dated August 10, 1869.

IMPROVEMENT IN CASKET-HANDLES.

To all whom it may concern:
Be it known that I, H. C. Wilcox, of West Meriden, county of New Haven, and State of Connecticut, have invented a certain new and useful improvement in the Manufacture of Casket-Handles; and to enable others skilled in the art to make and use the same, I will proceed to describe its construction, referring to the accompanying drawing, in which the same letters indicate like parts in each of the figures.
The nature of this invention will be understood from the specification and drawings, the object of which is to produce a cheap and strong casket-handle, rich and highly ornamental in its appearance.
In the accompanying drawings is shown an improved manufacture of casket-handle.
a are the fastening-plates, by which the handle is secured to the casket, and in which are formed hearings or sockets for the reception of the fulcrum-pin of the handle.
h are the shanks or end portion of the handle, provided with fulcrum-pins, a, which have their bearings in the fastening-plates a.
All the parts thus far described are constructed in the common way.
Upon the inner sides, and near the centre of the enlarged portion of the outer ends of the shanks b, are formed bosses or collars, b', in size equal to the inside diameter of the tube or handle proper, g.
Through the centre of these bosses are formed offices for the reception or passage of the screw-bolt e.
f are nuts, which are fitted to the outer ends of the bolt e.
g is a plain or ornamental tube, cut the proper or desired length required to fill the space between the outer ends of the shanks b.
The bolt e is inserted through the tube-handle g, and the orifices in the shanks b and bosses b'.
The ends of the tubular handle g are placed upon the bosses b', and the nuts f are screwed on to the
ends of the bolt e, thus compressing the detached parts of the handle firmly together.
By this improvement I produce a cheap, rich, and highly ornamental handle for trade and use.
The boss b' insures the assuming, by the thin metal tube, of its true position, concentrically with its enclosed rod while being tightened to place by the screws, and admits of having the diameter of the tube as great as may be desired, with but little increase of weight.
If, with such a tube and a small central rod, no bosses were provided on the levers, it is apparent that the moment it should be attempted to lift the casket, the tube would be pulled upward until it would touch the rod, and thus destroy the symmetry and efficiency of the handle.
It also admits of forming the tubular parts from regular tubing, or of making the same from sheet-metal, and of indenting, beading, or ornamenting them as desired.
With my construction of handle, used in connection with the style of plates shown, all the parts are more, readily put together, taken apart, packed for transportation, or applied to a casket, than if the levers were provided with trunnions insted of the single pins c.
I do not claim, broadly, a lever having a side pin thereon at one end, and a hole through the other end; nor such a lever combined with a cast-iron handle, by means of a rod and nuts; but
I claim—
The thin metal tube combined with the levers b, each having a boss, b', and with the screw-bolt e and nuts f, substantially as shown and described.
Also, the casket-handle, as shown and described, and consisting of the parts enumerated in the preceding claim, and combined with the plates a for receiving the fulcrum-pins, as a new article of manufacture.

H. C. Wilcox

Witnesses:
Geo. W. Smith
James G. Belden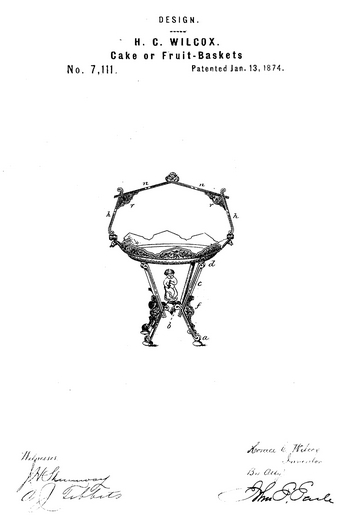 He was issued design patent number 7,111 on 13 Jan 1874

HORACE C. WILCOX, OF WEST MERIDEN, CONNECTICUT, ASSIGNOR TO THE MERIDEN BRITANNIA COMPANY, OF SAME PLACE.

DESIGN FOR CAKE OR FRUIT BASKETS.

Specification forming part of Design No. 7,111, dated January 13, 1874; application filed December 27, 1873.
[Term of Patent 3 1/2 years.]

To all whom it may concern:
Be it known that I, HORACE C. WILCOX, of West Meriden, in the county of New Haven and State of Connecticut, have invented a new Design for Basket; and I do hereby declare the following, when taken in connection with the accompanying drawing and the letters of reference marked thereon, to be a full, clear, and exact description of the same, and which suid drawing constitutes part of this specification, and represents a perspective view.
This invention relates to a design for the article of table service commonly called cake or fruit basket, the design consisting in the configuration of three parts, which may be used together or separately—viz., the legs or support, the basket or plate, and the handle.
The legs, starting from the foot or bearing point a, run straight, but obliquely, to near a common center, b. A little below the upper end of this part a branch, c, extends from this part obliquely outward and upward to the basket at d. At the intersection of the two parts of the leg an ornament, f, is introduced, having the appearance of a brace. The basket, resting upon the legs, has a flaring scalloped edge, as shown. For the bail, a branch, h, extends up from each side the basket, inclined inwardly, and near the upper end each branch intersects a bar, n; these bars n, running in an upward incline, meet at the center. An ornament, r, is introduced at the intersection of the bars h and n.
These legs may be used for other baskets and with different bails, and vice versa. I therefore do not confine myself to the combination of the three parts described, but together or separately. I claim as my invention—
The design for basket, as shown in the accompanying illustration and herein described, consisting of the legs in two oblique parts, the basket with a flaring scalloped edge, and the bail formed of inclined parts h n, the said legs, basket, and bail used together or separately.

Horace C. Wilcox

Witnesses:
John Barton, Jr.
C. H. Fisk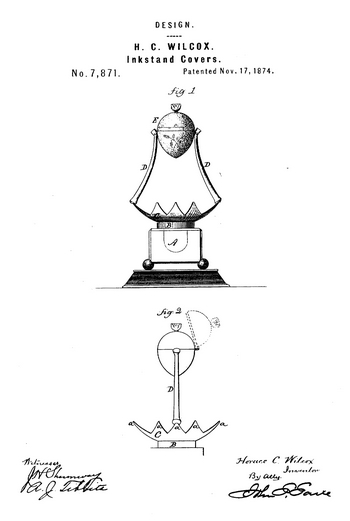 He was issued design patent number 7,871 on 15 Oct 1874

HORACE C. WILCOX, OF WEST MERIDEN, CONNECTICUT, ASSIGNOR TO MERIDEN BRITANNIA COMPANY, OF SAME PLACE. DESIGN FOR INKSTAND-COVER.

Specification forming part of Design No. 7,871, dated November 17, 1874; application filed October 15, 1874
[Term of Patent 7 years.]

To all whom it may concern:
Be it known that I, HORACE C. WILCOX, of West Meriden, in the county of New Haven and State of Connecticut, have invented a new Design for Inkstand-Cover; and I do hereby declare the following, when taken in connection with the accompanying drawings and the letters of reference marked thereon, to be a full, clear, and exact description of the same, and which said drawings constitute part of this specification, and represent, in—
Figure 1, front view, and in Fig. 2, side view.
This invention relates to a design for the cover or stopper of inkstands; and consists in the configuration of the article, as shown in the accompanying illustration, and as more fully hereinafter described.
A represents an inkstand, which may be of any desired form. B is the base of the stopper, formed to set onto and cover the opening in the inkstand. Upon the base is a pan, C, the edge of which is made irregular by scallops or points a,. more or less in number.
The pan is substantially circular, and these irregularities or the depressions afford a convenient support for pen-holders, &c. Upon opposite sides of the pan is an upright, D, supporting an egg-shape ornament, E, which is preferably made to open, as denoted in broken lines, Fig. 2, as a convenient receptacle for stamps, wafers, &c.
I claim—
The design for inkstand-stopper, consisting of the base B, the irregular-edged pan C, support D, and central ornament E, shown in the accompanying illustration, and as herein described.

Horace C. Wilcox

Witnesses:
O. H. Platt
C. P. Ives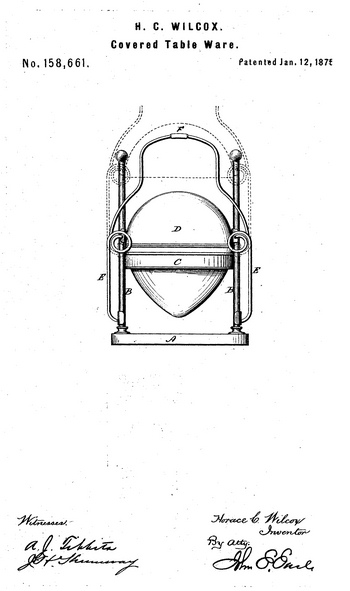 He was issued patent number 158,661 on 12 Jan 1875

HORACE C. WILCOX, OF WEST MERIDEN, CONNECTICUT, ASSIGNOR TO THE MERIDEN BRITANNIA COMPANY, OF SAME PLACE.

IMPROVEMENT IN COVERED TABLE-WARES.

Specification forming part of Letters Patent No. 158,661, dated January 12,1875; application filed August 28, 1874.

To all whom it may concern:
Be it known that I, HORACE C. WILCOX, of West Meriden, in the county of New Haven and State of Connecticut, have invented a new Improvement in Covered Table-Ware; and I do hereby declare the following, when taken in connection with the accompanying drawing and the letters of reference marked thereon, to be a full, clear, and exact description of the same, and which said drawing constitutes part of this specification, and represents a side view.
This invention relates to an improvement in that class of table-ware which has a removable cover, particularly designed for butter dishes and like purposes, the object being to raise the cover bodily from the dish without detaching it therefrom; and the invention consists in attaching the cover to a vertical slide, whereby the cover may be raised vertically from the dish, and held suspended until closed by forcing down the cover.
A is the base, from which rise two uprights, BB; C, a dish, which is attached to the uprights or base, or any convenient arrangement for its support. D is the cover; EE, a slide working upon the uprights, so as to be moved up and down, as denoted by the broken lines. To this slide the cover is attached. The slide moves upon the uprights with sufficient friction to retain it in a raised position. For convenience, the slide is carried up in the form of a handle, F, by which to transport the dish, as well as to raise the cover. The form of the dish or the support of the parts have nothing to do with this invention, it only being essential that they be in substantially the relative position, described; hence the form shown, in the drawing is only for convenience of illustration.
I am aware that articles of table-service have before been made with the covers arranged to be raised vertically from the dish, and supported at a fixed elevated position, as in the patent of H. S. and F. M. Goff, July 14, 1868. I therefore do not wish, to be understood as broadly claiming the arrangement of the cover of table-ware so that it may be raised and supported vertically above the dish.
I claim as my invention—
In combination with a dish, C, provided with one or more vertical guides, the cover D, provided with corresponding frictional slide, whereby the said cover may be held at any point of elevation between its two extremes, substantially as described.

Horace C. Wilcox

Witnesses:
O. H. Platt
James P. Platt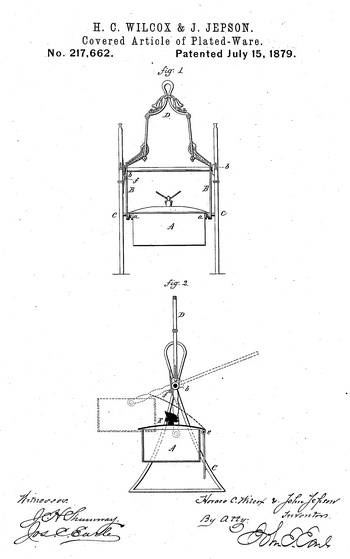 They were issued patent number 217,662 on 15 Jul 1879

HORACE C. WILCOX AND JOHN JEPSON, OF WEST MERIDEN, CONNECTICUT, ASSIGNORS TO THE MERIDEN BEITANNIA COMPANY, OF SAME PLAGE. IMPROVEMENT IN COVERED ARTICLES OF PLATED WARE.

Specification forming part of Letters Patent No. 217,662, dated July 15,1879; application filed May 26, 1879.

To all whom it may concern:
Be it known that we, HORACE C. WILCOX and JOHN JEPSON, of West Meriden, in the county of New Haven and State of Connecti cut, have invented a new Improvement in Covered Articles of Plated Ware; and we do here by declare the following, when taken in con nection with the accompanying drawings and the letters of reference marked thereon, to be a full, clear, and exact description of the same, and which said drawings constitute part of this specification, and represent, in—
Figure 1, a front view; Fig. 2, a sectional side view.
This invention relates to an improvement in articles of silver and plated ware which are provided with a cover and mechanical means for opening the same, and such as used for table-service, jewelry-cases, and other purposes; and the invention consists in the construction, as hereinafter described, and particularly recited in the claims.
A is the receptacle or box, and may be of any desirable shape. At its ends it is hung in a swinging frame, B, by pivots, as at a. This swinging frame is hung above on pivots, as at b, in a support, here shown as consisting of two sides, C; but the shape of the supports is immaterial. The frame extends above the pivot b in the form of a handle, D, and so that by throwing the handle backward the recep tacle is raised and thrown forward, as seen in Fig. 2. The receptacle should be balanced, so as to retain its horizontal position, which is best done by arranging the pivots a near the top of the receptacle. E is the cover, which is hinged to a stationary part of the frame, as at e.
In the act of raising the receptacle the cover is turned upward on its hinge, as indicated in broken lines, and being retained by the hinge, the receptacle moves out from beneath the cover, so as to completely open it when thrown forward, as shown. As the weight of the receptacle would cause it to return to its closed position if left free, a catch, f, is provided on the stationary part of the support to engage the swinging frame when the receptacle is open. This catch is preferably made so that while it will engage and hold the receptacle in its open position, it will allow the receptacle to close by a slight pressure thereon.
I claim—
1. The combination of the pivoted swinging frame, the receptacle hung in said swinging frame, and a cover hinged to a stationary part of the support, substantially as described.
2. The combination of the pivoted swinging frame, the receptacle hung in said swinging frame, and a cover hinged to a stationary part of the support, with a catch to engage the swinging frame when the receptacle is open, substantially as described.

H. C. Wilcox
John Jepson

Witnesses:
Geo. E. Curtis
Arthur Bradshaw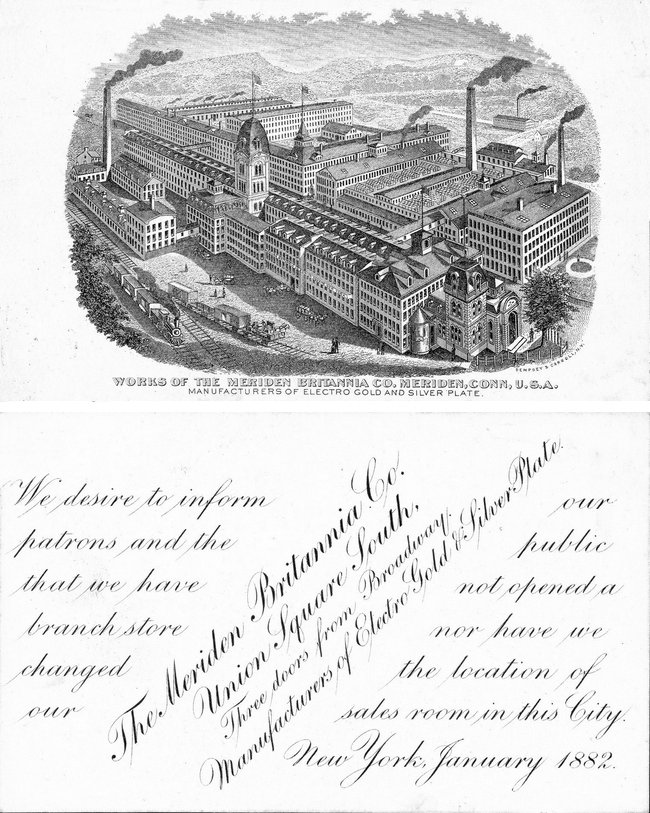 Trade card for the MERIDEN BRITANNIA Co., 1882
Private Collection

Horace married Charlotte Smith on 19 Aug 1849 in Middletown CT. (Charlotte Smith was born on 29 Aug 1829 in Middletown CT and died on 6 May 1864.)