Thomas Dane
Born: 5 Jun 1726, Ipswich MA

Marriage (1): Abigail Fernald on 3 Aug 1749 in Boston MA

Died: Bef 8 Mar 1759, Boston MA
General notes:
Silversmith
Events in his life were:

He worked circa 1746-1759 as a silversmith in Boston MA 3
Sugar bowl, 1748
Private Collection 9
Engraved "Mary Loring / the Gift of her Father / John Gyles Esqr / 1748" for Mary Gyles who married Nathaniel Loring in 1746 and whose first child, Mary, was born in 1748. A teapot by John Burt at the Minneapolis Museum of Art has the same inscription.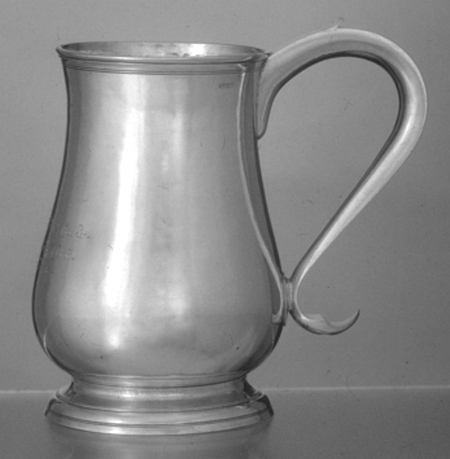 Cann, c 1748
Yale University
h: 6 1/2"
Boston MA, 22 Feb 1754: purchased a house from Elizabeth Parker on northwest side of Hanover Street. Both deed and morgage, in Suffolk County Land Records, refer to him as a goldsmith of Boston. 3
Thomas married Abigail Fernald on 3 Aug 1749 in Boston MA. (Abigail Fernald was born in 1726 in Kittery ME, christened on 15 May 1726 in Kittery ME and died in 1799 in Boston MA.)