William Earl Taber
Born: Mar 1838, Providence RI

Marriage (1): Mary James Wilbore on 19 Oct 1859 in Providence RI

Died: 16 Dec 1922
General notes:
Silversmith and jeweler
Events in his life were:
He was a partner in 1863 with William E. Taber in Providence RI as WILLIAM E. TABER & SON. Listed in the New England Business Directory. 4
He worked in 1863-1892 as a jeweler in Providence RI
Around 1892, he closed his own shop and went to work in the jewelry and watch department of TILDEN-THURBER, where he remained until his retirement in 1916.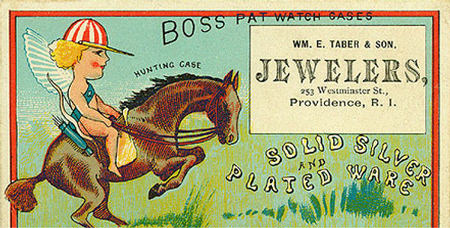 Tradecard, c 1880
Private Collection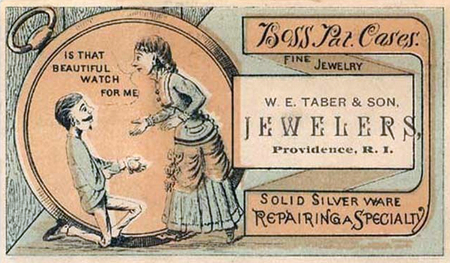 Tradecard, c 1880
Private Collection

William married Mary James Wilbore on 19 Oct 1859 in Providence RI. (Mary James Wilbore was born on 7 Jul 1838 in Little Compton RI and died on 12 May 1902 in Providence RI.)