Alexander Stowell
Born: 29 Nov 1821, Medford MA

Marriage (1): Esther M. Adams

Marriage (2): Fannie Elizabeth Davis on 15 May 1859 in Boston MA

Died: 5 Oct 1895, Pasadena CA
General notes:
Jeweler
Events in his life were:
He worked in 1850-1865 as a jeweler in Boston MA
Listed in the 1850 city directory at 76 Hanover and 141 Hanover in the 1855 edition.
He was a partner circa 1870-1904 with Charles S. Cook and Eugene Alexander Stowell in Boston MA as A. STOWELL & Co. Listed in the 1904 city directory with a shop at 24 Winter Street.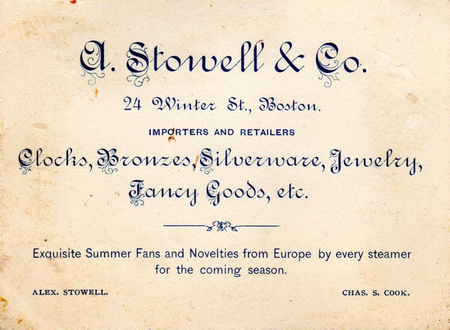 Tradecard, c 1870
Private Collection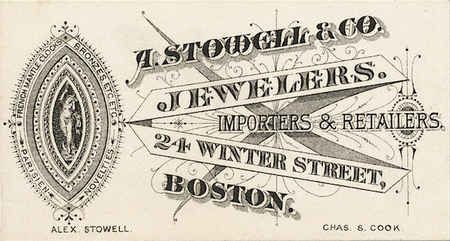 Tradecard, c 1870
Private Collection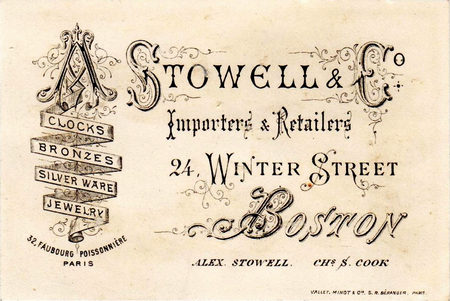 Tradecard, c 1870
Private Collection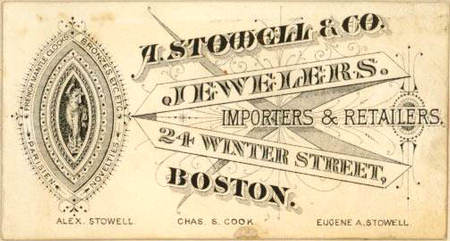 Tradecard, c 1875
Private Collection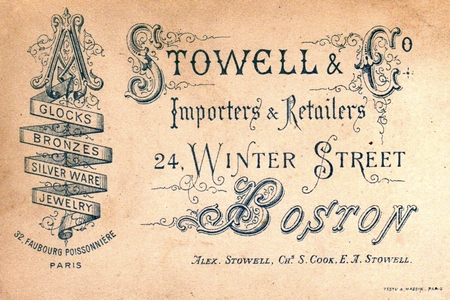 Tradecard, c 1875
Private Collection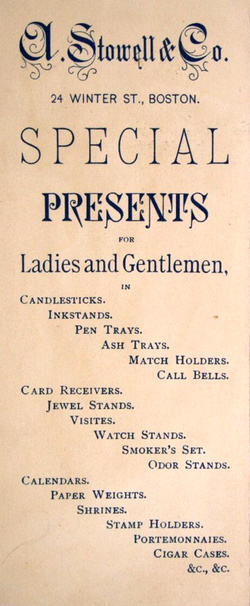 Tradecard, c 1875
Private Collection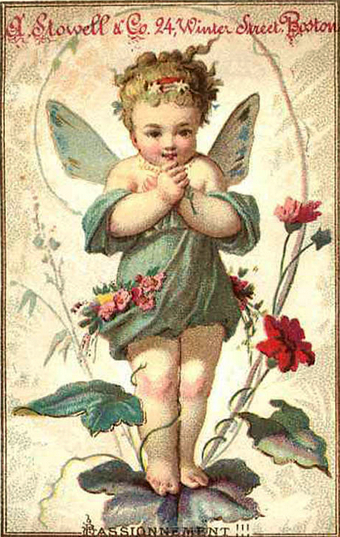 Tradecard, c 1875
Private Collection

Alexander married Esther M. Adams. (Esther M. Adams was born on 3 Sep 1827 in Charlestown MA and died on 6 Dec 1856 in Worcester MA.)
Alexander next married Fannie Elizabeth Davis, daughter of Parkman Tyler Davis and Elizabeth Clark, on 15 May 1859 in Boston MA. (Fannie Elizabeth Davis was born on 30 Sep 1836.)