Phineas Carleton
Born: 1 Mar 1786, Haverhill MA

Marriage (1): Frances Brickett on 13 Dec 1815 in Haverhill MA

Died: 5 Oct 1866, Haverhill MA
General notes:
Silversmith and jeweler
Events in his life were:

He worked circa 1810-1840 as a silversmith and jeweler in Haverhill MA
Mr. Phineas Carleton was a man of retiring habits and methodical ways, who disliked and avoided the bustle and display attendant upon public position. It appears, however, that he joined the well-known Fire Society, January 1814. He was a merchant on Water Street for many years, retiring from active business about 1840. He attained considerable celebrity as a manufacturing jeweler, his silverware being famous, far and near, for its solidity and workmanship. An obituary notice of Mr. Carleton, published in the Haverhill Gazette, concludes: "He bore a reputation for unbending integrity and untarnished honor, which gained for him the respect and confidence of the community."

History of Essex County, Massachusetts with Biographical Sketches of many of its Pioneers and Prominent Men (J. W. Lewis & Co., Philadelphia, 1888)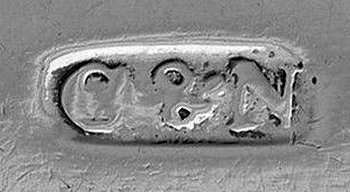 He was a partner circa 1812 with Thomas Newcomb in Haverhill MA as CARLETON & NEWCOMB.
Receipt, 19 Feb 1812
Winterthur Library

Phineas married Frances Brickett on 13 Dec 1815 in Haverhill MA. (Frances Brickett was born on 23 Sep 1793 in Haverhill MA and died on 2 Dec 1869 in Haverhill MA.)