Charles Wyman
Born: 18 Feb 1826, Chelsea VT

Marriage (1): Maria Elizabeth Densmore on 8 Nov 1848 in Chelsea VT

Died: After 1897, Saint Albans VT
General notes:
Silversmith and jeweler
Events in his life were:

He was a partner circa 1850-1856 with Alfred Henry Huntington in Saint Albans VT as HUNTINGTON & WYMAN. The partnership lasted for seven "pleasant and fairly profitable" years and in 1856 Mr. Huntington retired. Charles's brother, John Wyman, bought Huntington's interest and the new partnership commenced business under the name of C. & J. WYMAN.
8
He appeared on the 1850 census taken at Saint Albans VT, listed as a jeweler, living in the home of Alfred Henry Huntington.

He was a partner in 1856-1862 with John Wyman in Saint Albans VT as C. & J. WYMAN. 8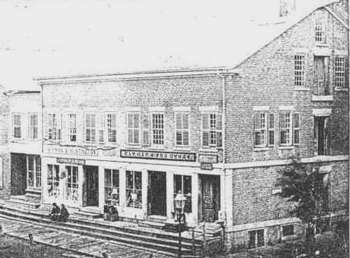 He worked in 1868-1887 as a silversmith and jeweler in Saint Albans VT 8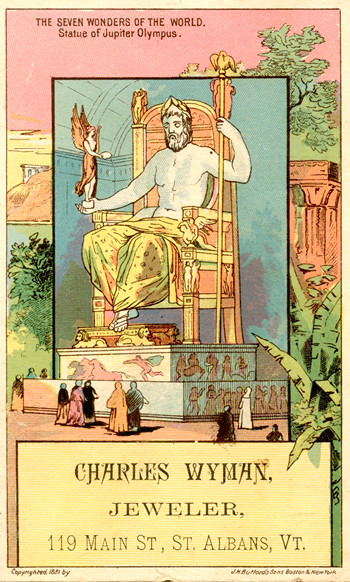 Tradecard, c 1880
Private Collection
One of a set of seven.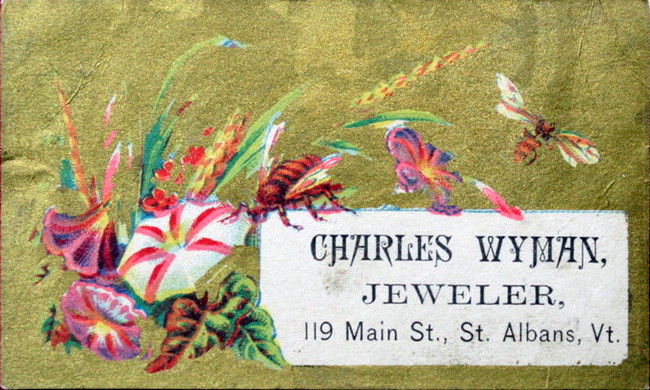 Tradecard, c 1880
Private Collection

He was a partner in 1887-1897 with John Daniel Wyman in Saint Albans VT as CHAS. WYMAN & SON. In 1897, the firm moved to Burlington and opened a shop at 71 Church Street in the shop formerly occupied by BURNHAM & GRANT.
8
Charles married Maria Elizabeth Densmore on 8 Nov 1848 in Chelsea VT. (Maria Elizabeth Densmore was born on 5 Dec 1822 in Chelsea VT and died on 14 May 1893 in Saint Albans VT.)