Frederick Marquand
Born: 6 Apr 1799, Fairfield CT

Died: 14 Jul 1882, Southport CT
General notes:
Silversmith and merchant
Events in his life were: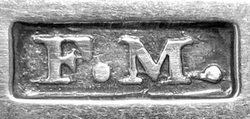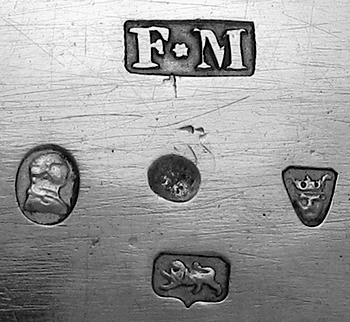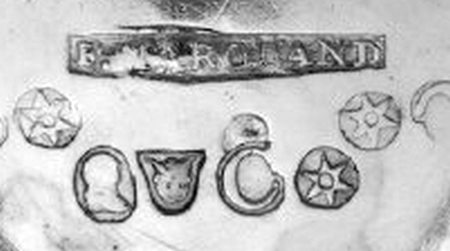 Cutten/GA:
He learned the silversmith craft in firms with which his father was connected, and in January 1820 returned to Savannah to enter into partnership with his cousin, Josiah Penfield, forming the firm of J. PENFIELD & Co. On Sept. 3, 1822 he married Hetty Perry of Mill Plain, Conn. He remained in Savannah until the first of the year 1826, when he returned to New York and established a business at the same address as that of his father, 166 Broadway. There is still considerable silver extant bearing his mark. The New York City directories carried his name as a jeweler at 166 Broadway until 1830-31, when the firm MARQUAND & BROTHER supplanted it at the same address. This evidently included his younger brother, Josiah Penfield Marquand. Two years later the firm name appeared as MARQUAND & BROTHERS. According to our information, Isaac Marquand had three sons, Frederick, Josiah, and Henry, but Henry was born April 11, 1819, and it seems improbable that he would be a member of the firm early enough to be included in the 1832-33 directory. In 1833 the firm, moved to 181 Broadway, was changed to MARQUAND & Co., and so it remained until after the death of Isaac in 1838, and the withdrawal of Frederick and Henry in 1839. Josiah P. had probably died in 1837. The Marquand Pavilion of Bellevue Hospital, New York, was erected in 1877 by Frederick and Henry Marquand in memory of their brother, Josiah P. It is a ward for women and children. 15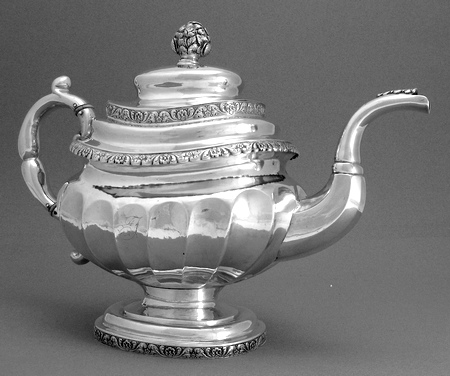 Teapot, c 1820
Private Collection
Part of a set including a coffepot, creamer, and sugar bowl.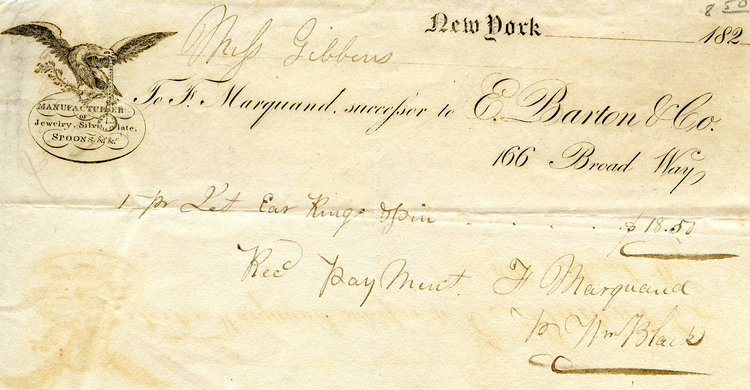 Receipt, Abt 1820
Winterthur Library


He was a partner in Jan 1820-1826 with Josiah Penfield in Savannah GA as J. PENFIELD & Co. 3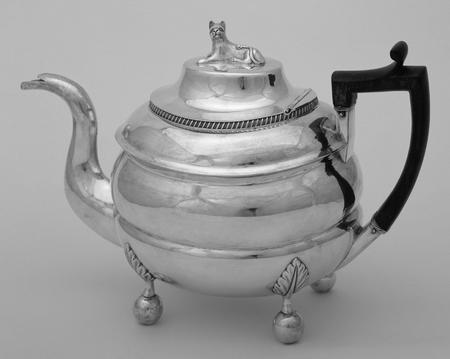 Teapot, c 1825-1830
Georgia Museum of Art
h: 7 3/4"
w: 11 3/4"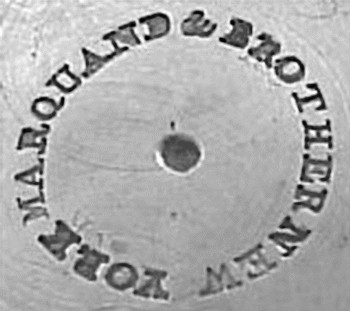 He was a partner in 1825-1830 with Isaac Marquand in New York City NY as MARQUAND & BROTHER. They continued at 166 Broadway with Isaac still listed in the city directory as a merchant and his son as a jeweler.

He was a partner in 1833-1838 with Isaac& Henry Gurdon Marquand, Erastus Osborne Tompkins, William Black, and Henry Ball in New York City NY as MARQUAND & Co., with a new store at 181 Broadway. After the death of Isaac Marquand, Frederick and Josiah left the firm, which became BALL, BLACK & THOMPKINS.

Wine siphon, c 1860
Private Collection

Obituary printed in the New York Herald-Tribune (New York City NY) on 15 Jul 1882
Frederick Marquand, formerly a well-known jeweller of this city, died yesterday morning in Southport, Conn., where he has lived for the last few years. He was born in the lower part of the city, where he lived for a large part of his life. He began business as a jeweller, and the firm of Marquand & Co., at no. 181 Broadway, at one time was the most noted jewelery house in the city. In 1852 Mr. Marquand retired, and was succeeded by Ball, Black & Co., the members of which firm had been clerks employed by him. Since then Mr. Marquand has travelled a great deal, and has passed many winters in the South. During his life he made many gifts to educational and benevolent objects, always on the condition that no publicity should be given to them. He leaves an adopted daughter, the wife of Elbert B. Monroe, and a brother and sister, Henry G. Marquand, of this city, and Mrs. Asa G. Trask.