Thomas Darling
Born: 21 Feb 1720, Stonington CT

Marriage (1): Abigail Noyes on 23 Jul 1745 in New Haven CT

Died: 30 Nov 1789, Stonington CT

Buried: New Haven CT
General notes:
Example
Events in his life were: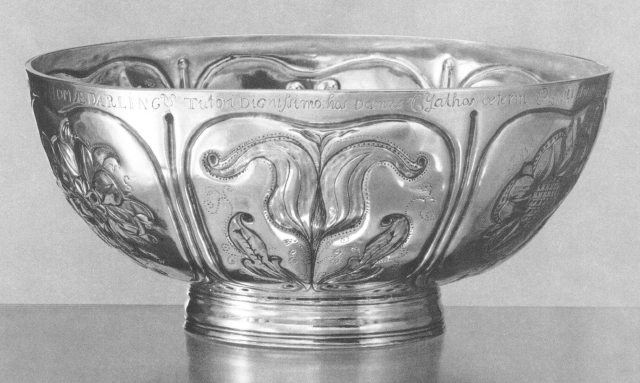 Punch bowl by Cornelis Kierstede, 1745
Yale University 13
h: 3 3/8"
d: 7 1/2" (lip)
wt: 11 oz, 17 dwt
Domino THOMAE : DARLING Tutori : Dignissimo : hos : Damus Cyathos : aeterni : Pigniis : Amoris Classis : sua 1745 engraved on side at lip; A Gift to Thomas Darling by his Parents Samuel & Clarinda Darling 1842 added later at lip; "Thomas Darling to his son Thomas 1843" at top of one panel. Thomas Darling was a tutor at Yale College in 1743-45. He was the sole instructor of the class of 1746, which presented him with this bowl, the most ornamental piece of plate made in Connecticut. Kierstede's New York origins are fully apparent from this bowl; his two-handled cup with applied, stamped baseband, dated 1729 (First Congregational Church, Milford CT), and a tankard later given to Trinity Church, New Haven CT, have less pronounced New York characteristics. This type of bowl, generally with two cast handles, appears to have been most popular in New York around 1700.
Thomas married Abigail Noyes on 23 Jul 1745 in New Haven CT. (Abigail Noyes was born on 20 Mar 1724 in New Haven CT, died on 19 Jul 1797 in New Haven CT and was buried in New Haven CT.)