John Folsom
Born: 17 May 1756, Stratford CT

Marriage (1): Elizabeth File on 18 Jul 1781 in Albany NY

Died: 4 Aug 1839, Glens Falls NY
General notes:
Silversmith
Events in his life were:
He worked as a silversmith circa 1777-1780
He left home at age 14 to apprentice with an unknown silversmith. It is not known if this was in Albany, or if he arrived in the city while working as a journeyman after his term was completed. 4
He worked in 1780-1785 as a silversmith in Albany NY 4
He was a partner in 1786-1790 with Isaac Hutton in Albany NY as FOLSOM & HUTTON. Made funeral spoon dated 1787 marked F & HUTTON. 4
He worked in 1790-1805 as a merchant in Albany NY
Though he may have continued some silver work, existing papers and advertisements indicate he was primarily a retailer of imported and general dry goods. 4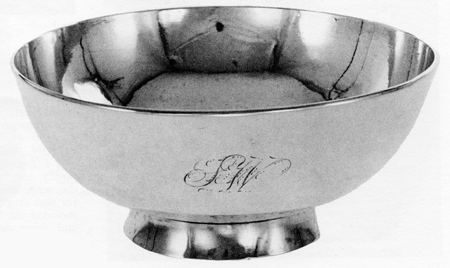 Bowl, c 1795
Detroit Institute of Art
h: 3"
dia: 7"
Engraved SW for Sarah Stevenson, who married the merchant and banker Dudley Walsh in 1793.
He worked in 1806-1839 as a general merchant in Glens Falls NY 4
John married Elizabeth File on 18 Jul 1781 in Albany NY. (Elizabeth File was born on 31 May 1761 in Brunswick NY and died on 12 Apr 1840 in Glens Falls NY.)