John Fitch
Born: 21 Jan 1743, South Windsor CT

Marriage (1): Lucy Roberts on 29 Dec 1767 in South Windsor CT

Died: 2 Jul 1798, Bardstown Jefferson KY
General notes:
Silversmith and engraver
Events in his life were:
Flynt & Fales:, . 3 Acknowledged pioneer inventor of the steamboat. Shipped on a Providence sloop in 1760, but soon left to apprentice as a clockmaker under Benjamin and Timothy Cheney. After buying his freedom, he set himself up as brassworker and watch repairer in Windsor. Married Lucy Roberts and lived unhappily with her for two years. Left her with an infant son and went to Trenton NJ where he found work as a journeyman with James Wilson, silversmith. Bought Wilson's business, continued it, employing seven journeymen and silversmiths -- James Greaves, John Wilson, John Cochran, Joseph Toy, James Wilson, Federick Burgy, and Samuel Stout. His account book in Historical Society of PA, mainly about wages, shows charges for porringers, creamers, coffee- and teapots, spoons, tankards, sword mountings, etc. Shop on Kings Street until 1776. First Lieutenant in Revolution, making and repairing rifles. Moved to Bucks County PA and then to KY. Captured by Indians in 1782, turned over to British at Detroit, who took him to Canada. Exchanged the same year and shipped to New York City. Returned to PA where he occasionally made silver buckles, buttons and spoons. Active in surveying. Experimented on steamboat engines in 1783; went to France to secure patents on same but met rebuffs there and in this country. Working on steamboat, eked out an existence as Philadelphia silversmith. Died in KY while building a steamboat.
Apprenticed in 1760-1764 to Benjamin Cheney and Timothy Cheney in East Hartford CT 1
Originally bound to Benjamin Cheney, clockmaker, who put him to tilling his farm, Fitch left to train under Benjamin's brother, Timothy, from whom he learned the trade of brass and wooden clockmaking and watchmaking. He bought his freedom in 1764 and struck off on his own.
Apprenticed in 1769 to John Wilson in Trenton NJ
After his training, he was able to purchase Wilson's tools and take over the remnants of his business, which had apparently failed as a result of Wilson's alcoholism.
He worked circa 1770-1776 as a silversmith in Trenton NJ
By 1776, Fitch had created a successful business and had hired additional nine journeymen producing all varieties of hollowware vessels in addition to sword hilts and military equipment. In the summer of that year he joined Captain William Tucker's company as a lieutenant, and was named armorer of his battalion. In December, before the Battle of Trenton, Fitch's King Street shop was ransacked and destroyed by the British. He fled to the Ohio River Basin where in March, 1782 he was captured by Indians on the Muskingum River.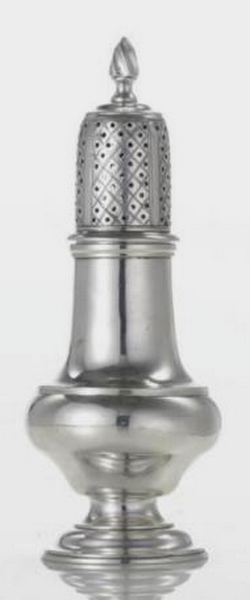 Caster, c 1775
Private Collection
h: 6 1/2"
wt: 5 oz 6 dwt
According to Silversmiths of New Jersey, 1700-1825, only three cream pots, eight tablespoons, two teaspoons and a pair of sugar tongs have been attributed to Fitch's shop.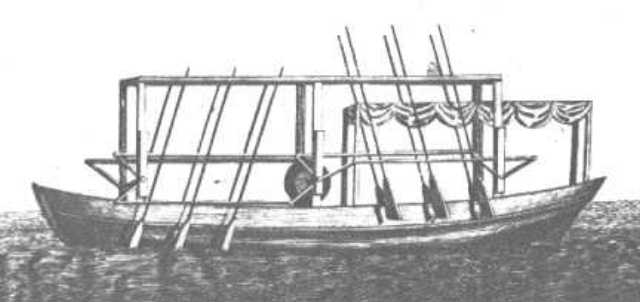 First steam boat, 1785
Printed in the Columbian Magazine, 1786.
Advertised in the Pennsylvania Packet, 30 Jun 1785, offering a map of the Northwest country, drawn and printed by his own hand, based upon actual journeys into the territory; price "a French Crown." Sales of this map amounted to more than $800, which provided the capital for his steamship company in 1787. 26
Portrait in Lloyd's Steamboat Directory, 1856

John married Lucy Roberts on 29 Dec 1767 in South Windsor CT. (Lucy Roberts was born on 11 Sep 1740 in Simsbury CT.)