Reverend John Lowell
Born: 14 Mar 1704, Boston MA

Marriage (1): Sarah Champney on 23 Dec 1725 in Boston MA

Died: 15 May 1767, Newburyport MA
General notes:
Example
Events in his life were: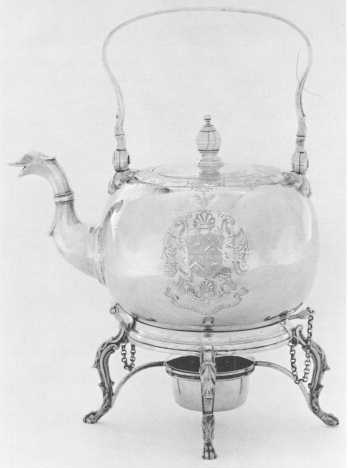 Tea kettle by Jacob Hurd, c 1730-1740
Museum of Fine Arts, Boston 10
h: 14 3/8" (inclusive)
d: 7 1/2"
wt: 59 oz, 12 dwt (kettle)
wt: 18 oz, 12 dwt (stand)
Engraved with Lowell arms. This is the only published kettle of New England make in the colonial period and the only silver known to bear these arms originally. For his bookplate cut by Nathaniel Hurd, Judge John Lowell (1743-1801) used the crest of a covered cup with the Lowell coat. He moved from Newbury to Boston, joining the Church in Brattle Square. With its correct crest, the Lowell coat marks the tablet to his son John (1769-1840) in King's Chapel, Boston. In the nineteenth century the quartered arms on the kettle were added to two pieces of silver which in period could have belonged to Ebenezer Lowell (1675-1711): the salver by John Coney is at the Metropolitan Museum of Art, New York and the two-handled cup by Edward Winslow in the Mabel Brady Garvan Collection at Yale University. Winslow's cup was not the inspiration of Judge Lowell's crest. Both pieces were owned in this century by grandchildren of James Russell Lowell, as was the kettle. His only surviving child, Mabel, married Edward Burnett. Mrs. Cunningham writes of her mother, Mabel Lowell Burnett, as a child taking the kettle from the sideboard at Elmwood to make its spout "a beautiful Roman fountain" from melting snow.
John married Sarah Champney on 23 Dec 1725 in Boston MA. (Sarah Champney was born on 15 Oct 1704 in Boston MA and died on 28 Jun 1756 in Newburyport MA.)