Erastus Cook 4
Born: 3 Feb 1792, Pompey NY

Marriage (1): Clarissa Strong Remington on 25 Sep 1825 in Rochester NY

Died: 29 Apr 1864, New York City NY
General notes:
Silversmith, jeweler, and watchmaker
Events in his life were:


He worked in 1815-1845 as a goldsmith and watchmaker in Rochester NY
Erastus Cook's sign appeared in the window of Jehiel Barnard's tailor shop on the present site of the Renold's Arcade. His shop was opposite H. Elly's store. From there he moved as soon as business would warrant it to a small building opposite where he remained several years. Mr. Cook re-located to a building at the corner of Buffalo (Main Street) and Exchange. This corner is now referred to as "Four Corners" however because of Erastus's popularity back in 1817 it was known as "Cook's Corner".
4
Master to Thomas Henry Marshall Abt 1822 in Rochester NY. 1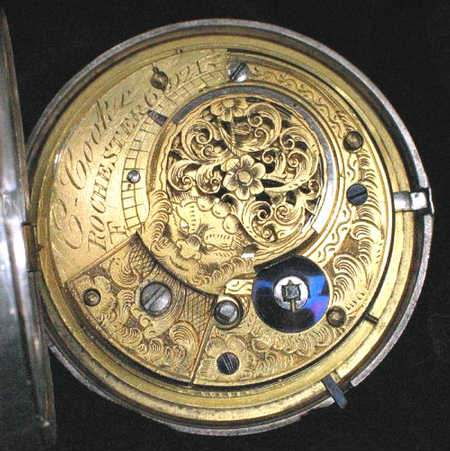 Pocket watch, c 1828
Private Collection
The English made case, hallmarked for Birmingham, 1828, was made by Vale and Rotherman.
He worked in 1834 as a jeweler in Rochester NY 4
He was a partner in 1838-1850 with Ezra Beers Booth in Rochester NY as COOK & BOOTH 4
He was a partner in 1847-1859 with Mortimer F. Stilwell in Rochester NY as COOK & STILWELL, jewelers. On his retirement, the firm was succeeded by M. F. & C. H. STILWELL. 4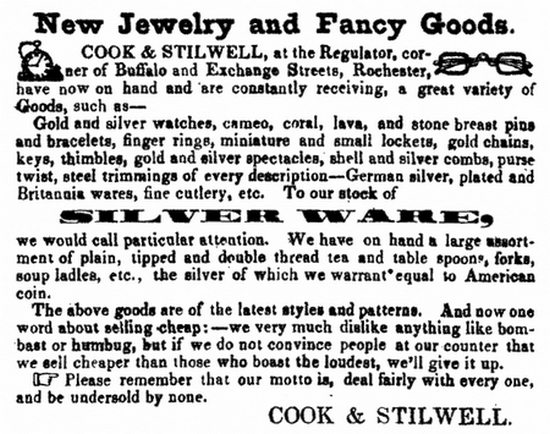 Advertised in the Rochester City Directory (Rochester NY), 1849,
He worked after 1859 as a silversmith and jeweler in Madison WI 4
He appeared on the 1860 census taken at Madison WI, listed as a retired jeweler, living in the household of Charles Azor Belden.
Erastus married Clarissa Strong Remington on 25 Sep 1825 in Rochester NY. (Clarissa Strong Remington was born on 1 May 1799 in Pittsfield MA.)