Thomas Warner
Born: 1780, Bucks PA

Marriage (1): Mary Ann Helms on 25 Oct 1810 in Baltimore MD

Died: 22 May 1828, Baltimore MD
General notes:
Silversmith
Events in his life were:


He worked in 1803-1828 as a silversmith in Baltimore MD at 64 North Gay Street, 1803; on Harrison Street, 1804; at 52 North Gay Street, 1807-1810; at 52 East Street, 1813; at 9 East Street, 1814-1824; at 9 Fayette Street, 1827. 30

Teaspoon, c 1805
Baltimore Museum Art 30
l: 5 3/4"
wt: 18 dwt
Engraved with the crest of the Ridgely family of Baltimore. This is an unusually early example of the fiddle-thread pattern.
Ensko 8
Served with distinction in War of 1812 as an Army lieutenant.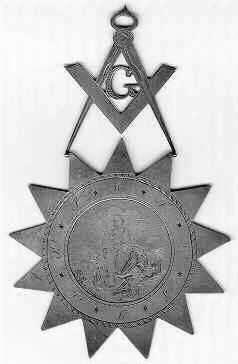 Masonic jewel, After 22 Sep 1812
Baltimore MD
Joined Freemason's St. John's Lodge No. 34 on September 22. 1812

Discharge record, 7 Sep 1813.
Head Quarter Fort George
By order of Brig. Gen. Boyd

To all whom it may concern:
This is to certify that Thomas Warner of Baltimore, state of Maryland Silversmith, an Ensign in Capt. Stephen Moores Company U. S. Volunteer has served the United States honestly and faithfully for the term of one year from the 8th September 1812 to the 7th September 1813 and is hereby honorably discharged.
He worked in 1814-1828 as a silversmith in Baltimore MD
Though prohibited by law (as City Assayer until 1823) from working as a silversmith and hampered by the loss of his leg in the War of 1812, he nonetheless advertise throughout this period as a smith, jeweler, and gold watchcase maker. 30
Appointed in 1814-1823 as Assayer of City in Baltimore MD credited with developing the system of purity marks used by the Baltimore Assay Office.
30
Thomas married Mary Ann Helms on 25 Oct 1810 in Baltimore MD.