Samuell Edwards
Born: 21 Jun 1705, Boston MA

Marriage (1): Sarah Smith on 23 Aug 1733 in Boston MA

Died: 14 Apr 1762, Boston MA
General notes:
Silversmith
Events in his life were: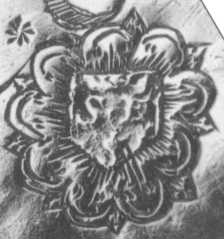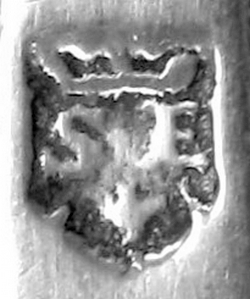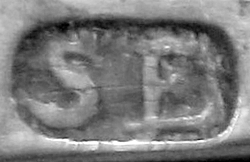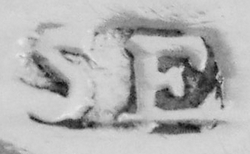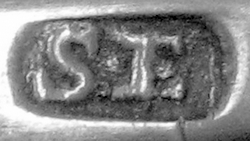 Flynt & Fales:, . 3 Commissioned by General Assembly for presentation pieces. One of his porringers, now in possession of Gay family, is supposed to have been inherited by the Rev. Ebenezer Gay in 1790 from Sarah Hersey Derby. She and her husband, Dr. Ezekiel Hersey, endowed two professorships in 1782, forerunners of the Harvard Medical School. Boston Gazette (Apr. 19, 1796) reported: "died here . . . Mr. Samuel Edwards, goldsmith, who, for several Years has been one of the Assessors of the Town." Died childless; bequeathed his nephew Joseph Edwards, Jr. "a thimble stamp and a swage for tea and large spoons." On June 17, 1765, "Joseph Edwards of Cornhill" advertised in Boston Gazette sale of some of the late Samuel Edwards' possessions, including "Gold Beads, a pair Gold Buckles, Gold Buttons, with many other Articles of Gold and Silver, too many to be enumerated."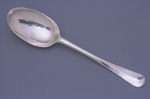 Spoon, 1730
Historic Deerfield 1
l: 7 1/4"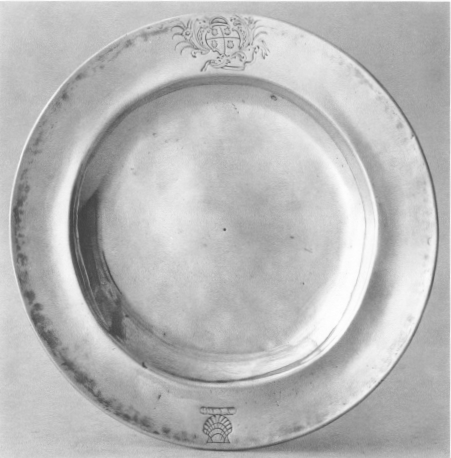 Plate, c 1730
Museum of Fine Arts, Boston 10
d: 5 15/16"
wt: 4 oz, 4 dwt
Engraved with Jackson arms in sheaf and scroll cartouche, crest on oppisite rim for Edward Jackson (1707-1757). The inventory of Jackson's estate included a "pr. Butter plates."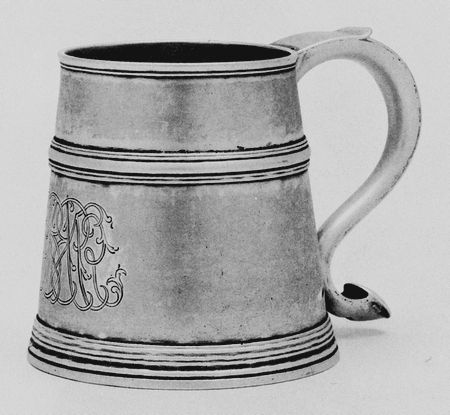 Tankard, c 1730-1740
Private Collection
h: 3 3/4"
wt: 8 oz, 12 dwt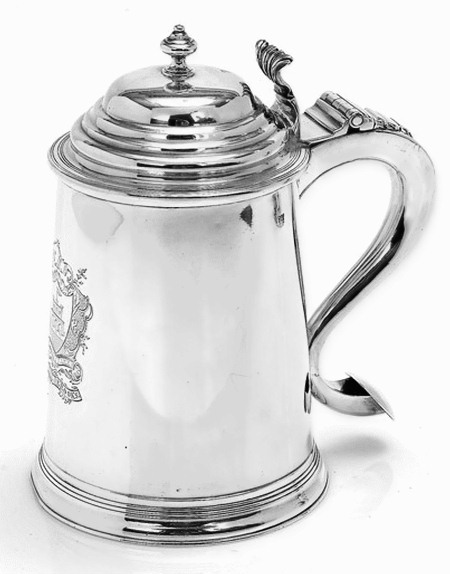 Tankard, c 1745-1760
Private Collection
h: 8 1/2"
wt: 24.8 oz
Engraved with Brooks coat of arms and the motto SUSTINARE.
Sauce pan, 1752
Museum of Fine Arts, Boston
h: 2 5/16"
Engraved "The Gift of Mrs. Eliza Peirce to Eb. Storer Teritus Augt 10th 1752"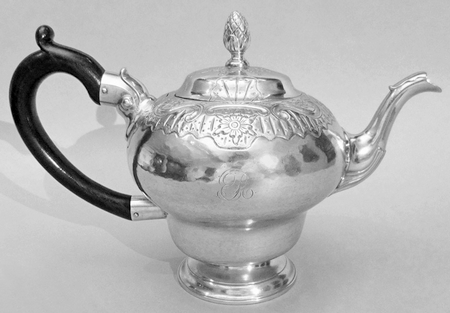 Teapot, c 1757
Winterthur Library 7
h: 5 3/4"
w: 9 1/8"
wt: 16 oz, 18 dwt
Engraved L * D to E * R for Lucy (Wainwright) Dudley as a legact to her niece, Elizabeth Richards.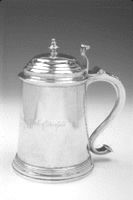 Tankard, c 1758
Historic Deerfield
h: 8 1/2"
Inscribed "Gift of Mr. Ebenezer Wells to the Church of Deerfield Ano 1758"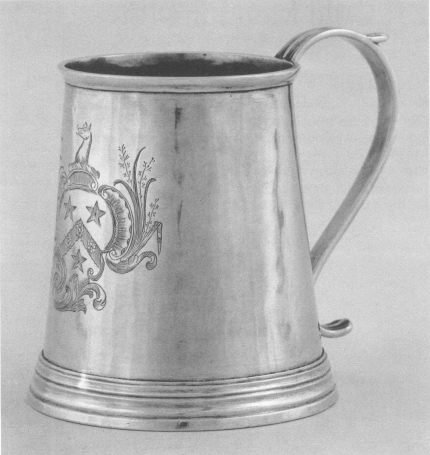 Mug, 1758
Museum of Fine Arts, Boston 10
h: 3 3/4"
d: 3 3/16" (base)
wt: 6 oz, 1 1/2 dwt
Engraved with Storer arms and crest on front in cartouche. Engraved on bottom "The Gift of Mary Storer. / to / Mary Smith. / 1758"
Obituary printed in the Boston Gazette (Boston MA) on 19 Apr 1762
". . . died here after a few Days Illness of a violent Fever, in the 57th Year of his Age, Mr. Samuel Edwards, goldsmith, who, for several Years has been one of the Assesors of the Town; and esteemed as a Man of Integrity, exact and faithful in all his Transactions; His Death is Lamented as a publick Loss."
Samuell married Sarah Smith, daughter of William Smith and Abigail Fowle, on 23 Aug 1733 in Boston MA. (Sarah Smith was born on 30 Jan 1703 in Charlestown MA.)