Seth Eastman Brown
Born: 30 Mar 1821, Exeter ME

Died: 1 May 1884, Boston MA
General notes:
Silversmith, jeweler, and watchmaker
Events in his life were:


He worked in 1844-1848 as a silversmith, jeweler, and watchmaker in Concord NH listed in city directories and the New England Mercantile Union Business Directory. He sold out to Moses Maxwell Chick. 4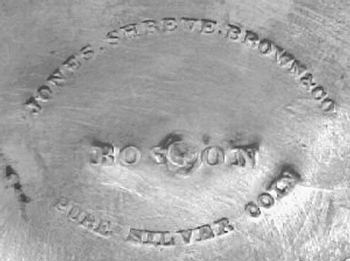 He was a partner in 1855-1857 with George Bond Jones and Benjamin Shreve in Boston MA as JONES, SHREVE & BROWN, listed in the 1855 city directory with shops at 226 Washington and 1 Summer Streets. 4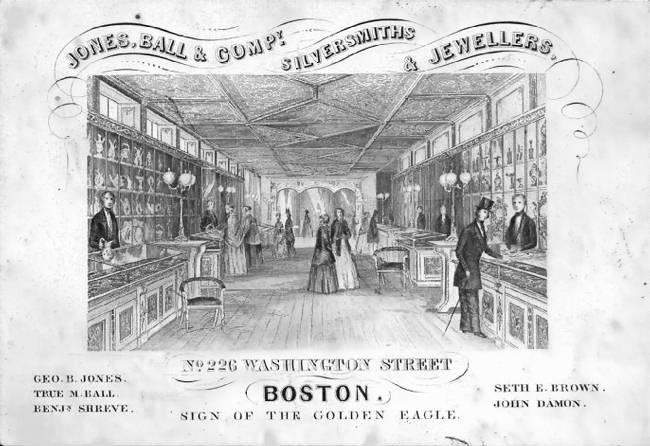 Tradecard, c 1855
Private Collection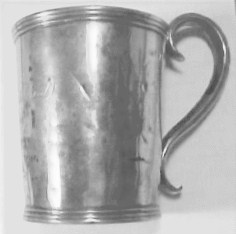 Cup by JONES, BROWNE & SHREVE, c 1856
Private Collection
Engraved "Francis Carruth Ward / May 9, 1856"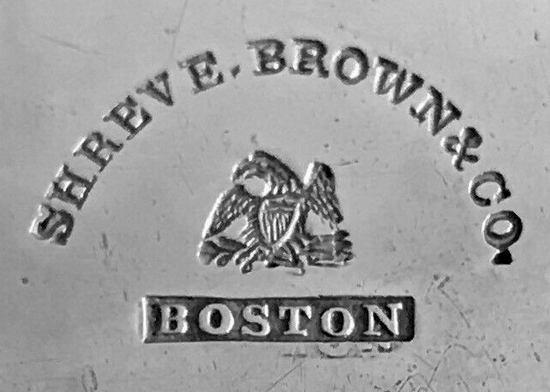 He was a partner in 1857-1863 with Benjamin Shreve in Boston MA as SHREVE, BROWN & Co, with a shops at 226 Washington and 1 Summer. 4
He worked in 1863-1867 as a jeweler in Boston MA
Listed in the 1865 city directory at 254 Washington Street. 4
He worked in 1869-1870 as a real estate agent in Boston MA 4