Daniel Greenough
Born: 22 Feb 1685, Rowley MA

Marriage (1): Abigail Elliott on 16 Dec 1708 in New Castle NH

Marriage (2): Elizabeth Gevin on 25 Jan 1721 in New Castle NH

Died: 20 Apr 1746, Bradford MA
General notes:
Silversmith
Events in his life were:
He worked circa 1708-1737 as a silversmith in New Castle NH
Though he is known to have worked in a variety of forms, only two pieces by his hand are known today; the Metropolitan Museum sugar box below and a porringer in a private collection. Other pieces are known by historical record, including a tankard and two spoons recorded in the 1726 will of Samuel Winkley.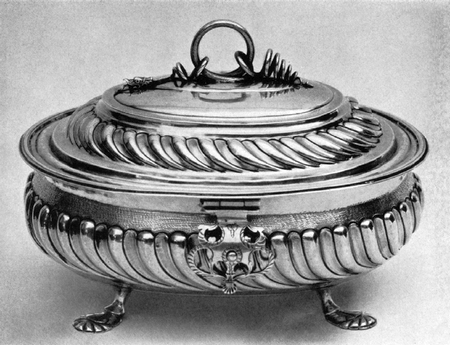 Sugar box, c 1720
Metropolitan Museum of Art
wt: 22 oz, 12 dwt
Engraved E over R A for Robert and Sarah (Fryer) Elliott, parents of the maker's first wife, Abigail. Of the ten known colonial era sugar boxes, this is the only one not made by John Coney or Edward Winslow.
He worked in 1738-1746 as a silversmith in Bradford MA 9
Daniel married Abigail Elliott, daughter of Robert Elliott and Sarah Fryer, on 16 Dec 1708 in New Castle NH. (Abigail Elliott was born about 1685 in New Castle NH and died in Jun 1719 in New Castle NH.)
Daniel next married Elizabeth Gevin on 25 Jan 1721 in New Castle NH. (Elizabeth Gevin was born on 6 Nov 1692 in Portsmouth Bristol MA and died on 3 Dec 1765 in Bradford MA.)