Thomas Grant
Born: 3 Aug 1729, Marblehead MA

Christened: 3 Oct 1731, Marblehead MA

Marriage (1): Margaret Bubier on 12 Jul 1761 in Marblehead MA

Died: 7 Aug 1804, Marblehead MA
General notes:
Silversmith
Events in his life were:


He worked circa 1752-1804 as a silversmith in Marblehead MA 9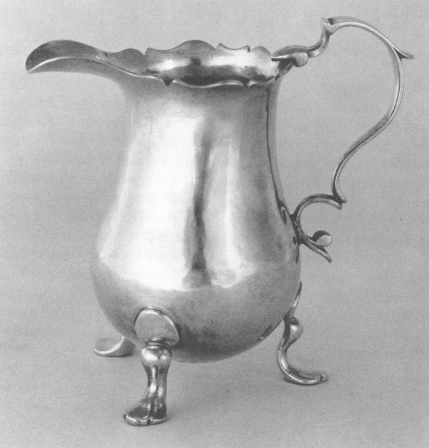 Cream pot, c 1760
Museum of Fine Arts, Boston 10
h: 3 11/16" (including handle)
wt: 2 oz, 15 1/2 dwt
Flynt & Fales:, . 3 During the Revolution, was captain in Col. John Glover's Regiment. One of Glover's vessels chartered by authority of George Washington, the 72-ton schooner Hancock, was owned by Thomas Grant. Inventory taken at time of his death lists "Shop Bellows 50 Cts, 1 Old Lathe 75 Cts, 12 Hammers $ 1.00, 1 Large Hammer 6o Cts, I hollowing Stamp, brass Weights &c. 1.00, I Vice $1, a parcel of Old Tools $2." His "Mansion House & Garden" were valued at $750, and his "Small Goldsmiths Shop" at $200. An Essex County deed of 1767 includes a sketch of the situation of his shop. His mark appears on a pair of casters (one in Heritage Foundation Collection, one at Society for the Preservation of New England Antiquities) formerly owned by Thomas and Elizabeth Gerry of Marblehead, and a pair of beakers and a tankard given to the Second Congregational Church in Marblehead in 1772 and 1773.
Thomas married Margaret Bubier, daughter of Christopher Bubier and Margaret Le Vallier, on 12 Jul 1761 in Marblehead MA. (Margaret Bubier was born in 1742 in Marblehead MA, christened on 18 Apr 1742 in Marblehead MA and died in 1789 in Marblehead MA.)