John Gorham
Born: 18 Nov 1820, Providence RI

Marriage (1): Amy Thurber on 4 Sep 1848 in Providence RI

Died: 26 Jun 1898, Chase City VA
General notes:
Silversmith
Events in his life were:
Apprenticed in 1837 to Jabez Gorham in Providence RI
But could not get along with the shop foreman and soon left to work at farming and later, clerking in Providence, Boston, and New York City.

He was a partner in 1841-1850 with Jabez Gorham in Providence RI as J GORHAM & SON, listed in the 1849 New England Mercantile Union Business Directory with a shop at 10 and 12 Canal Street. He was one of the first to recognize the advantages of machinery and introduced factory production methods to augment hand work. 1



He was a partner in 1850-1852 with Gorham Thurber in Providence RI as GORHAM & THURBER. 12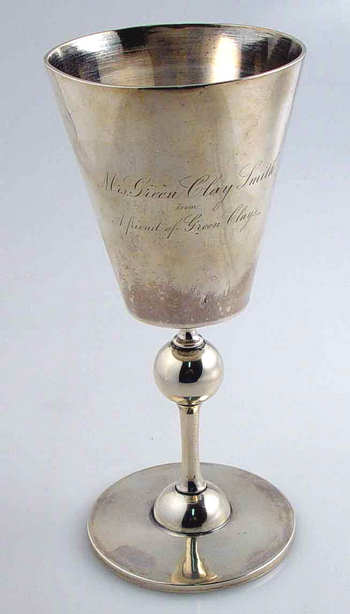 Goblet, c 1850
Private Collection
h: 6 3/4" tall
d: 2-15/16" (base)
Engraved Mrs. Green Clay Smith / from / a friend of Green Clay's for Caroline Virginia (Duke) Smith who married Green Clay Smith about 1846.
Green Clay Smith was a Representative from Kentucky; born in Richmond, Madison County KY, July 4, 1826; pursued academic studies; served in the Mexican War; commissioned second lieutenant in the First Regiment, Kentucky Volunteer Infantry, June 9, 1846; was graduated from Transylvania University, Lexington KY in 1849; studied law; was admitted to the bar in 1852 and commenced practice in Covington KY; was school commissioner 1853-1857; member of the State house of representatives 1861-1863; commissioned colonel of the Fourth Regiment, Kentucky Volunteer Cavalry, April 4, 1862; brigadier general of Volunteers July 2, 1862; resigned December 1, 1863; brevetted major general of Volunteers March 13, 1865; elected as an Unconditional Unionist to the Thirty-eighth and Thirty-ninth Congresses and served from March 4, 1863, until his resignation in 1866; chairman, Committee on Militia (Thirty-ninth Congress); appointed by President Johnson as Governor of Montana Territory and served from July 13, 1866, until April 9, 1869, when he resigned; moved to Washington, D.C., where he was ordained to the Baptist ministry; was the candidate of the National Prohibition Party in 1876 for President of the United States; pastor of the Metropolitan Baptist Church in Washington, D.C., from 1890 until his death, June 29, 1895; interment in Arlington National Cemetery.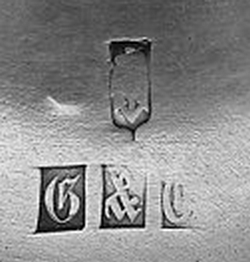 He was a partner in 1852-1875 with Gorham Thurber and Lewis Dexter in Providence RI as GORHAM & Co. Dexter retired in 1861. Gorham declared bankruptcy in October 1875. The firm was continued in other hands and he remained as a general employee. In 1878, he appealed for re-instatement, but was declined.
"Was some yrs ago Prest. of the Gorham mfg. Co. but failed badly in 1875, there being nothing for the unsecured creditors. For a time was in the employ of the company. It is not known how he gets a living. Is in no bus. & has no means. Is of considerable ability but quite sanguine & speculative. These peculiarities were the curse of his fortune." (Dunn Report, 25 Sept. 1880) 4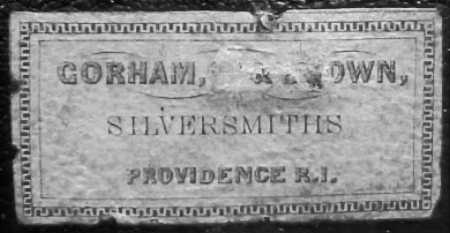 He was a partner in 1856 with Gorham Thurber and Henry T. Brown in Providence RI as Gorham, Co. & Brown. This was a distribution outlet for silver goods and novelties; Henry Brown ran the shop.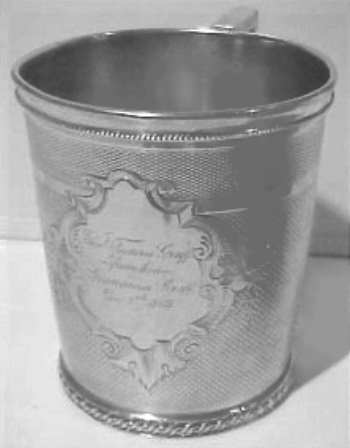 Cup by GORHAM & Co, 1863
Private Collection
h: 3 3/8"
d: 3" (of lip)
wt: 144 grs
Engraved Cha' Frederic Graff / -- From His -- / Grandmother Graff / Dec, 5th 1863


He was a partner in 1865-1898 with Gorham Thurber and J. F. P. Lawton in Providence RI as GORHAM MANUFACTURING Co. 3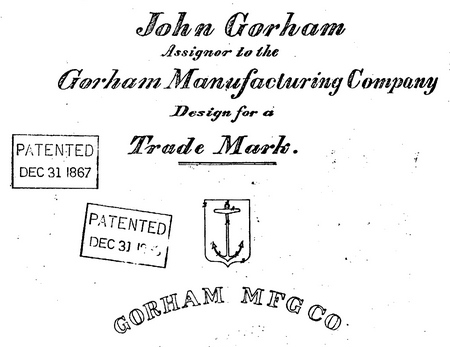 He was issued design patent number 2854 on 31 Dec 1867

JOHN GORHAM, OF PROVIDENCE, RHODE ISLAND, ASSIGNOR TO GORHAM MANUFACTURING COMPANY:

TO ALL WHOM IT MAY CONCERN:

Be it known that I, John Gorham, of the city and county of Providence, and State of Rhode Island, have originated and designed a new Design for a Trade-Mark, of which the following is a full, cleasr and exact description, reference being had to the accompanying drawings; making part of this specification.
My said design for a trade-mark consists of an anchor on a shield, such as is shown in the said drawings, A being an anchor and S a shield. And my design further consists of the legend or inscription, Gorham Mfg Co., as shown in the said drawings.
This mark I purpose using, arranged one above the other, or otherwise, in connection, to designate and distinguish the genuine manufacture or article of "electro-plated ware," (so called,) of the corporation or com≠pany authorized and doing business under the name and style of the "Gorham Manufacturing Company," the said marks being stamped or otherwise fixed on the said manufacture in any well-known and effective manner.

Claim:
What I claim as my invention, and desire to secure by Letters Patent, isó The design for a trade-mark herein set forth.

JOHN GORHAM.

Witnesses:
Isaac A. Brownell
A. T. Gorham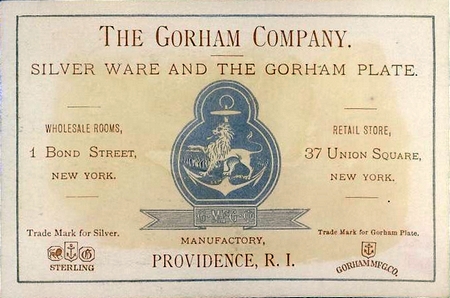 Tradecard, c 1870
Private Collection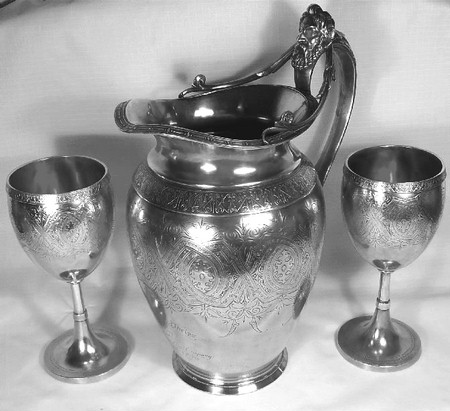 Jug and goblets by GORHAM & Co., 1871
Private Collection
h" 12" (pitcher)
dia: 7" (pitcher)
Retailed by SHREVE & Co. Engraved "Captain Thomas S. Phelps / U. S. Navy / from the / Pacific Mail Steam Ship Company / San Francisco November 23rd 1872."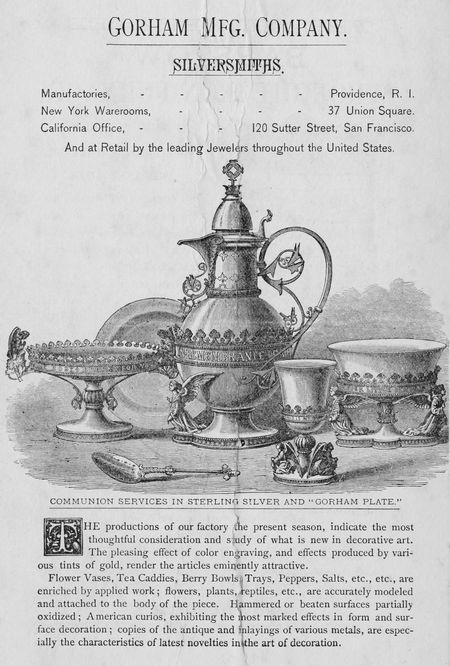 Advertised in the The Congregational Yearbook, 1880,
John married Amy Thurber, daughter of Isaac Thurber and Lucy Brown, on 4 Sep 1848 in Providence RI. (Amy Thurber was born on 1 Sep 1827 in Providence RI.)