Joseph Church
Born: 13 Jun 1793, Hartford CT

Marriage (1): Eliza Janes on 9 Sep 1819 in Hartford CT

Died: 14 Feb 1876, Hartford CT
General notes:
Silversmith and watchmaker
Events in his life were:
Flynt & Fales:, . 3 When he was young his father moved the family to Lee MA and built the first paper mill in western Massachusetts. Joseph returned to Hartford in his early 20's and was apprenticed to Jacob Sargaent and Horace Goodwin. In 1818 established his own business on Henry St., later moving his shop to Main St. In partnership in 1827 with William Rogers, a former apprentice. Two other apprentices, C. C. Strong and L. T. Wells, bought his business in 1841. He was an official and director of the Aetna Life Insurance Company and a director of the Connecticut River Band. The landscape painter, Frederick E. Church, was his son.

He was a partner in 1825-1836 with William Hazen Rogers in Hartford CT as CHURCH & ROGERS, clock and watchmakers. Listed in the 1828 city directory at 110 Main Street. 4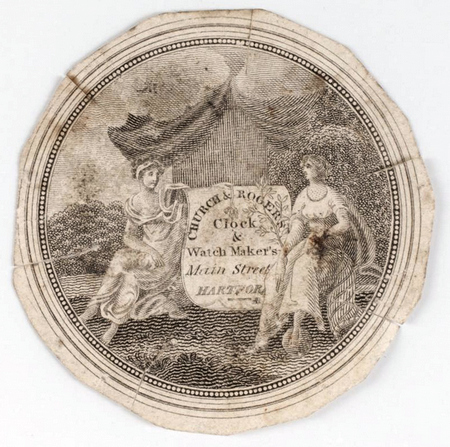 Watch paper for CHURCH & ROGERS, c 1835
American Antiquarian Society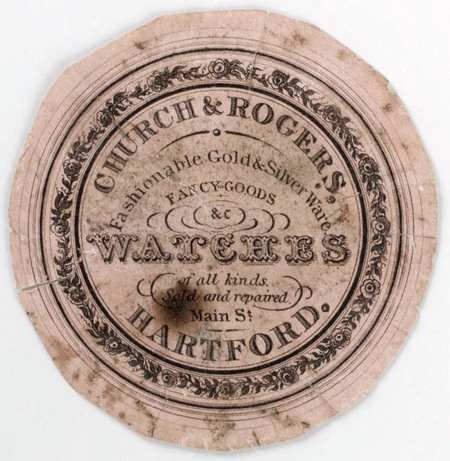 Watch paper for CHURCH & ROGERS, c 1835
American Antiquarian Society

He worked in 1840-1847 as a silversmith, jeweler, and watchmaker in Hartford CT 4

Joseph married Eliza Janes on 9 Sep 1819 in Hartford CT. (Eliza Janes was born on 2 Mar 1796 in Hartford CT and died on 17 Jul 1883 in Hartford CT.)