John Henry Tyler
Born: 7 Apr 1809, Norwich CT

Marriage (1): Elizabeth Slater Evans on 20 Apr 1835 in Richmond VA

Died: 1883, Richmond VA
General notes:
Silversmith and jeweler
Events in his life were:
He worked circa 1835-1845 as a silversmith in Richmond VA employed by William Mitchell in his shop at 108 West Main Street. 17
He was a partner on 1 Oct 1845-1 Jul 1866 with Samuel Phillips Mitchell in Richmond VA as MITCHELL & TYLER. Both men were the former apprentices of William Mitchell and bought their master's business. The firm was eminently successful, but was eventually dissolved due to Samuel Mitchell's ill health. 17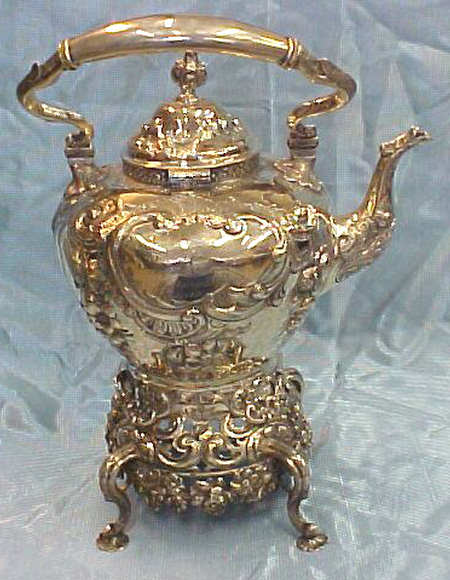 Tea service, c 1851
Private Collection
h: 10" (teapot)
h: 13" (kettle including stand)
Engraved "Presented to / Frederick Boyden / By his Friends / Richmond, VA / July, 1851." Boyden was landlord of the Exchange Hotel in Richmond, VA, 1841-1851.



He was a partner on 6 Aug 1866-1882 with John Tyler in Richmond VA as JOHN H. TYLER & Co. The firm was joined by James Evans and Henry Tyler in 01 Feb 1882. In his will, John Henry directed that his sons continue the firm, retaining the original name. 17
John married Elizabeth Slater Evans, daughter of James Evans and Millicent Davis, on 20 Apr 1835 in Richmond VA. (Elizabeth Slater Evans was born on 5 Apr 1811 in New York City NY.)