Robert Sanderson
Born: 1608, Norwich Norfolkshire England

Marriage (1): Mary Cross about 1641 in Hampton NH

Died: 7 Oct 1693, Boston MA
General notes:
Silversmith
Events in his life were:
Apprenticed in 1626-1635 to William Rawlins in London England 1

Flynt & Fales:, . 3 Sanderson's mark was registered at Goldsmith's Hall in London in 1635, but he left soon after for the colonies. He was one of the first settlers in Hampton, New Hampshire. After three years he moved to Watertown, Massachusetts and from there to Boston.
Made freeman of Hampton NH, 7 Sep 1639. 3
He was a partner circa 1652-1683 with John Hull in Boston MA as HULL & SANDERSON. The earliest known piece of American silver is a dram cup made by the partners, now in the Yale University Art Gallery. The partnership orginally began after Hull was appointed Mint Master and recommended Sanderson as his partner. Sanderson came to Boston and was admitted as an inhabitant on 30 May 1653. 3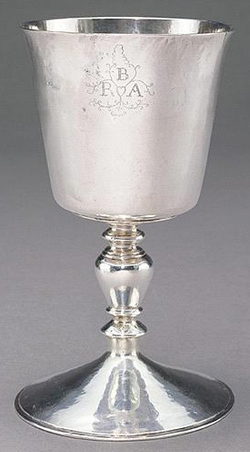 Cup by HULL & SANDERSON, c 1660
Private Collection
h: 6 7/8"
wt: 10 oz
Engraved B over R A for Richard and Alice (Blower) Brackett.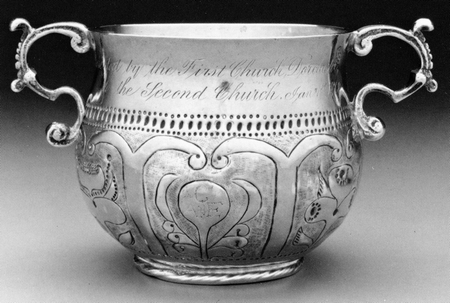 Caudle cup
The Second Church, Dorchester MA
Engraved "C over A E" for Augustine and Elizabeth Clement and "The gift of Mrs Elizabeth Clement to the Church of Dorchester, 1678".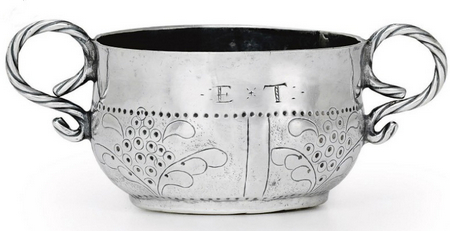 Miniature caudle cup, c 1665
Private Collection
w: 4"
Engraved E T likely for a member of the Tilton or Turell family of Boston, in which the cup descended for eleven generations.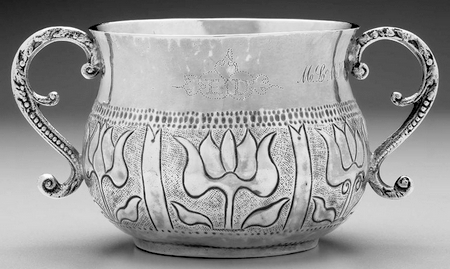 Caudle cup, c 1665
Museum of Fine Arts, Boston
Prick engraved BB in a scroll cartouche for Beriah Bright.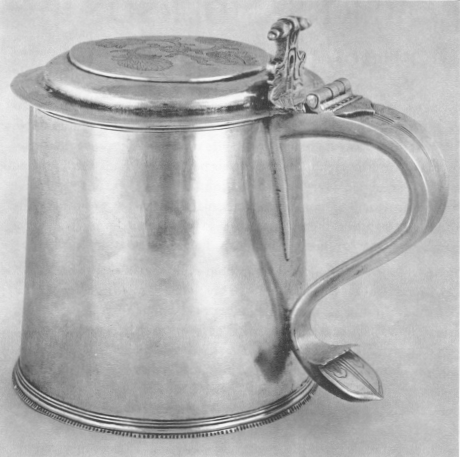 Tankard, c 1670-1680
Museum of Fine Arts, Boston 10
h: 8 3/16"
d: 6 5/8" (base)
wt: 41 oz, 11 1/2 dwt
Made for Isaac and Mary (Balston) Vergoose. Only tankard known from the first generation of American smiths.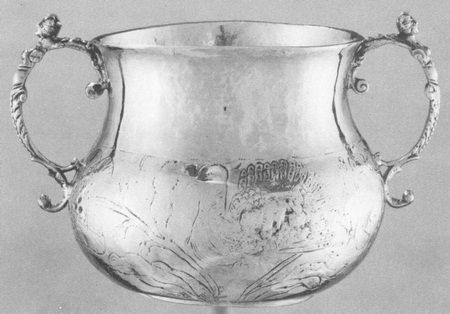 Cup, c 1675
Winterthur Library
h: 4 1/2"
d: 4 3/4" (of top)
Engraved S over T A for Thomas and Anne (Tyng) Shepherd.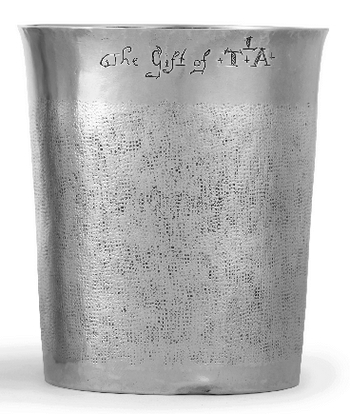 Beaker (one of a pair), c 1678
Private Collection
h: 4 3/8"
Engraved "The Gift of L over T * A" The pair were bequeathed to the First Parish Church of Dorchester by Thomas and Alice Lake.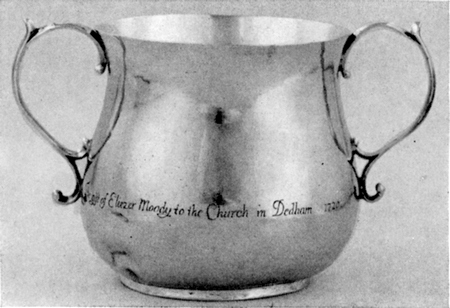 Caudle cup, c 1680
Private Collection
h: 3 13/16"
Engraved "The Gift of Eliezer Moody to the Church in Dedham 1720."
Robert married Mary Cross about 1641 in Hampton NH. (Mary Cross was born about 1607 in Hampton NH and died on 21 Jun 1681 in New Haven CT.)