Ebenezer Noyes Moulton
Born: 1 Jan 1768, Newburyport MA

Marriage (1): Jane Somerby on 18 Oct 1787 in Newburyport MA

Died: Aug 1824
General notes:
Silversmith and jeweler
Events in his life were:

He worked in 1790-1820 as a silversmith in Boston MA shops at various addresses on Cornhill until 1806, when he settled at Number 3 South Row. 1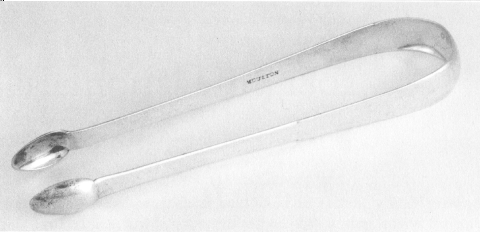 Sugar tongs, c 1790
Museum of Fine Arts, Boston 10
l: 5 7/8"
Engraved RTV on bow for Ruth (Tufts) Vose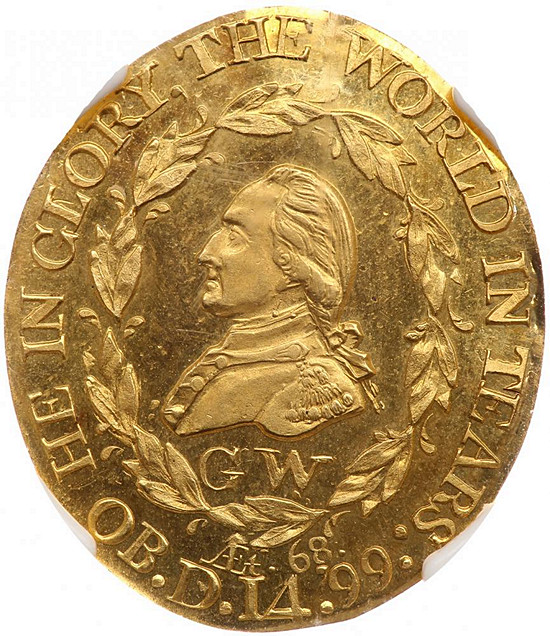 Washington funeral medal, c 1799
Private Collection
w: 24
h: 28
A funeral badge worn to honor our first President at parades and other commemorations held around the country following Washington's death in December of 1799. These were made as a "ladies medal" and some were made into custom pieces of jewelry by adding bezels or creating holes for suspension.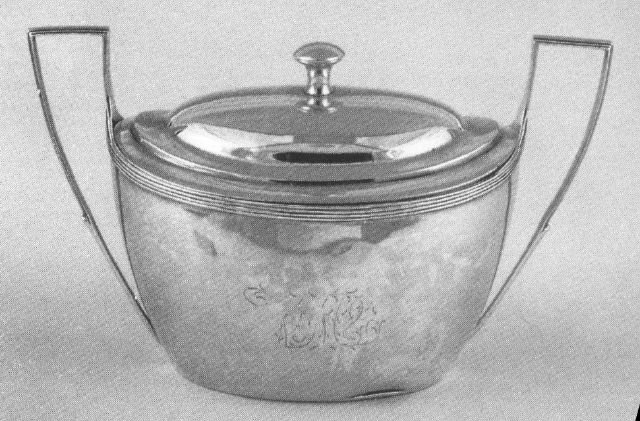 Sugar bowl, c 1800 2
h: 4 3/4" (top of handles)
l: 8 1/4" (handle to handle)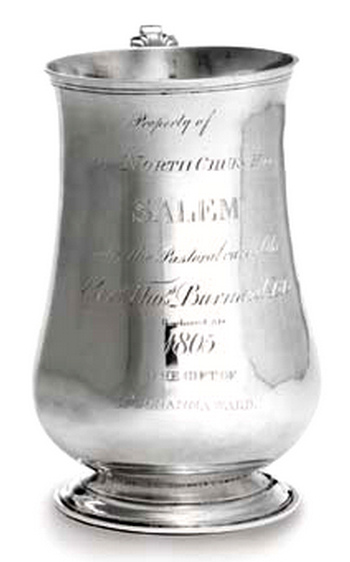 Cann, 1805
Private Collection
h: 8 1/4"
wt: 17 oz 15 dwt
Engraved "Property of the North Church in / Salem under the Pastoral Care of the / Revd. Thos. Barnard DD. / Purchased AD 1805. / The gift of Mrs. Johanna Ward" One of a pair with covers.
Advertised in the Salem Gazette, 1806, from shop at 52 Cornhill, where he had "an extensive assortment of English made Silver Plate . . . Jeweler's Tools, Flatting Mills," 3

Toddy spoon, c 1810
Museum of Fine Arts, Boston 10
l: 6"
wt: 5 1/2 dwt
Possibly a unique version of the form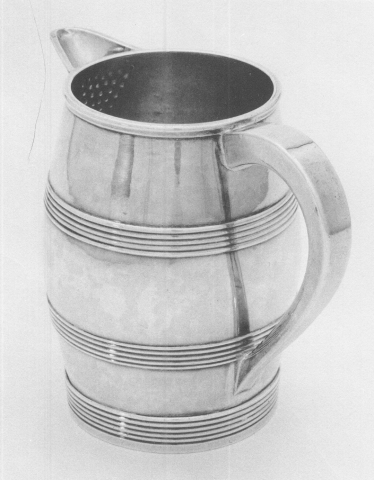 Jug, c 1810
Museum of Fine Arts, Boston 10
h: 4 15/16"
d: 3" (of base)
wt: 10 oz, 15 1/2 dwt
Made for a member of the Coleman family. See the covered example by David Mosely.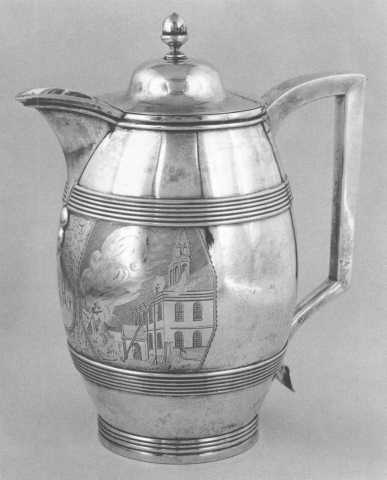 Tankard, 1811
Museum of Fine Arts, Boston 10
h: 8 1/4" (of body)
d: 4" (of base)
wt: 45 oz, 6 dwt
Engraved IH on front and in an octangle cartouche To MR ISAAC HARRIS / For his intrepid and successful exertions / on the roof of the Old South Church / when on fire December 29nth 1810 / the Society presents this token of their / GRATITUDE / Boston January 29nth 1811. Notes in the records of the Old South Church establish the attribution of the maker's mark to Ebenezer Moulton: ". . . designed by Smith - engraved by Wightman - and the pitcher holding three Quarts made by Ebenr Moulton . . ."
He worked in 1820-1824 as a silversmith in Newburyport MA 1
Flynt & Fales:, . 3 The inventory of his estate lists an enormous amount of stock on hand, including 1,027 oz. of silverware, quantities of sword knots, epaulets and other military regalia, and plated ware. The wares were displayed in his shop in six counter cases and eight cases.
Ebenezer married Jane Somerby on 18 Oct 1787 in Newburyport MA.