Simeon Soumaine
Born: Bef 10 Jun 1685

Christened: 10 Jun 1685, London England

Marriage (1): Susanna Bourdett in New York City NY

Died: Abt 1750, New York City NY
General notes:
Silversmith (tentative identification)
Events in his life were: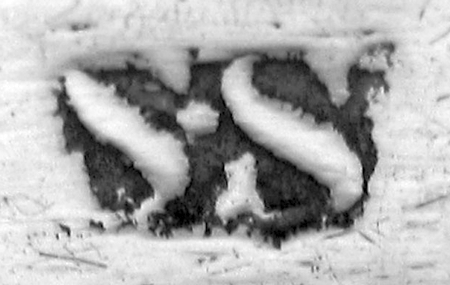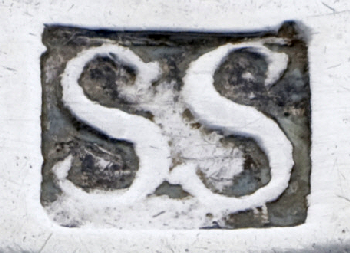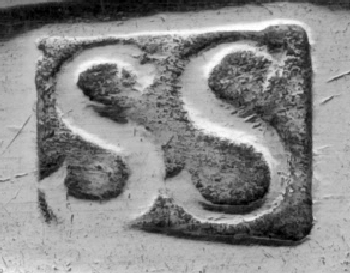 Advertised in the American Weekly Mercury, 23 Mar 1727,
This is to give Notice to all Gentlemen and others, That a Lottery is to be drawn at Mr John Stevens in Perth Amboy for £501 of Silver and Gold work wrought by Simeon Soumain of New York, Gold-Smith, all of the newest Fashion. The highest Prize consists of an Eight square Tea Pot, six Tea Spoons, Skimmer and Tongues, Valued at £18 3s 6d. The lowest Prize consists of Twelve Shillings Value. There is 278 Prizes in all, and their is only five Blank to each Prize. Tickets are given out at Six Shillings York money or Seven Shillings Jersey Money for each Ticket at the House of Mr John Stevens in Amboy, at Mr Lewis Carrees in Aliens Town, at Mr Jolines in Elizabeth Town, at Mr Cortlandts at Second River, by Mr Andrew Bradford in Philadelphia, at Mr Samuel Clowse in Jamaica in Long Island, and by Simeon Soumain in the City of New York, at which last Place, the Goods so to be drawn are to be seen, and the said Goods are to be valued and apprised by Mr Peter Van Dyke, and Mr Charles Leroux, two GoldSmiths in the city of New York. And said Lottery is to be drawn the 22nd day of May next anno. 1727. If said Lottery be full sooner it will be drawn before the 22nd of May next.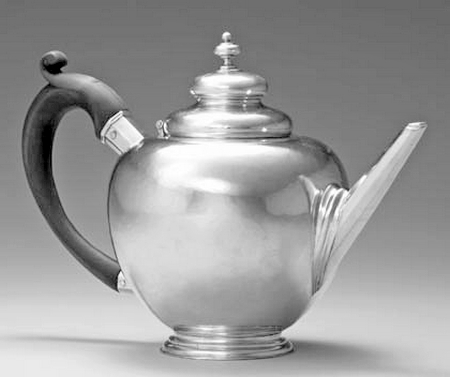 Teapot, c 1730
Private Collection
w: 10 1/2" (over handle)
wt: 17 oz, 10 dwt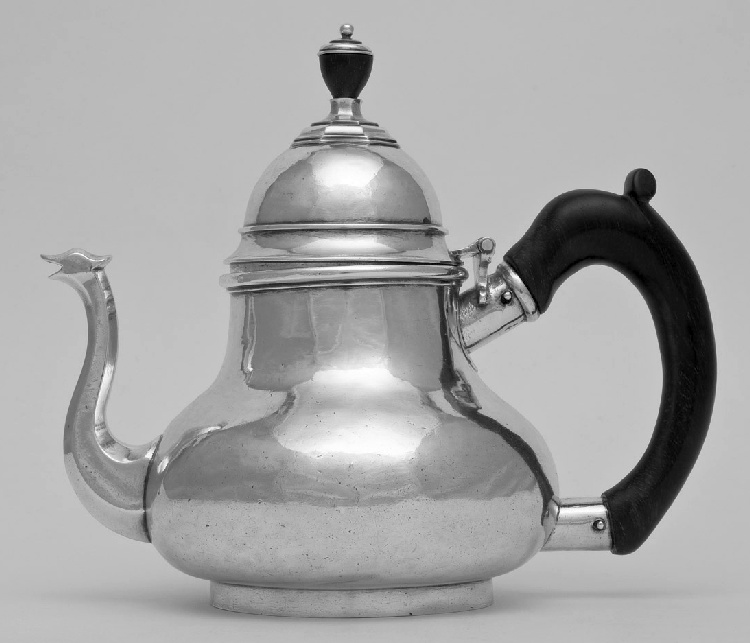 Teapot, c 1730
Winterthur Library
h: 6 1/4"
w: 7 3/8" (over handle)
wt: 16 oz
Engraved in a later hand "Eupham Scot Johnstone. / 1685"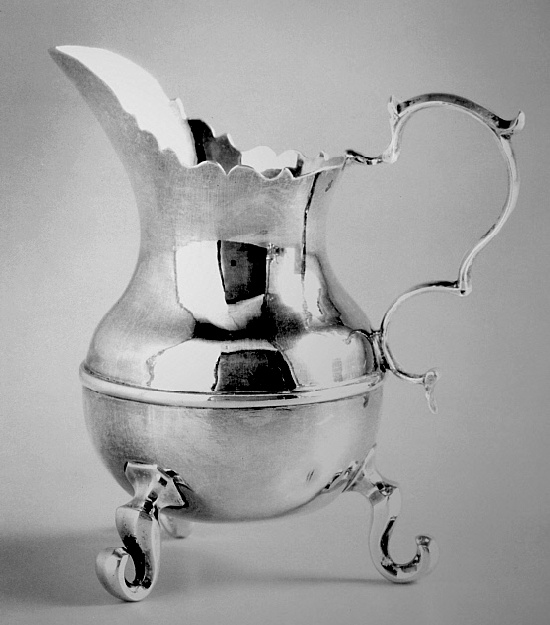 Creamer, c 1740
Clark Art Institute
h: 4"
wt: 3 3/4 oz
Simeon married Susanna Bourdett, daughter of Samuel Bourdett and Judith Piaud, in New York City NY. (Susanna Bourdett was born on 13 Apr 1689 in New York City NY.)