Theodore Evans
Born: 14 Mar 1833, Newark NJ

Marriage (1): Mary Elizabeth Day on 28 Nov 1855 in Newark NJ
General notes:
Jeweler and manufacturer
Events in his life were:
He appeared on the 1850 census taken at Newark NJ, listed as a clerk, living in his father's household.

He was a partner circa 1855-1868 with John Cook in Newark NJ as T. EVANS & Co. with a shop at 6 Liberty Place. The firm later became EVANS & COOK. When Evans retired in 1868, the firm was continue by Cook, who eventually sold out to SHIEBLER & Co.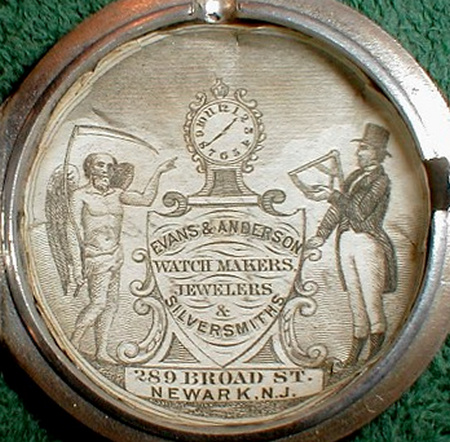 Watch paper, c 1865
Private Collection

Theodore married Mary Elizabeth Day on 28 Nov 1855 in Newark NJ. (Mary Elizabeth Day was born on 13 Aug 1833 in Newark NJ.)