Clement Beecher
General notes:
Silversmith
Events in his life were: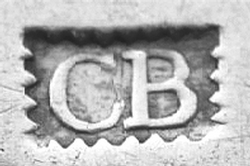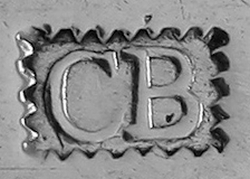 Advertised in the Connecticut Courant, 1801, "Gold and silversmithing business; likewise brass founding, in Berlin, opposite the Academy." 3

He worked as a silversmith in 1801-1820 as CLEMENT BEECHER & Co. Travelled as an itinerant smith, working from back of wagon in Berlin, Cheshire, & Meriden CT. The mark shown may be CHARLES BREWER & Co.
3
Flynt & Fales:, . 3 Invented and patented numerous devices including a washing machine. He became a recluse in later life at his farm, "New Jerusalem."