Josiah Wheelock
General notes:
Jeweler and watchmaker
Events in his life were:
, . A prominent man in the town of Sutton; local histories refers to him as Major Wheelock. From the History of the town of Sutton by Benedict and Tracy:
Major Wheelock was a clock and watchmaker and jeweller. He had several apprentices among them Capt. Josiah Hall, Simeon Marble, Clark Sibley, Moses L. Morse, Brigham Smith, and others. He invented a watch known as the Wheelock watch. It was a great improvement on the old verge watch and was but slightly improved by the introduction of the Patent Lever. It was really the best watch of his time. He also made superior clocks. He gave an organ to the church, which was played for several years by one of his apprentices, Brigham Smith, son of Capt Thomas. Major Wheelock owned a factory in Fitchburg.
He was town moderator three times in 1814; served as a town selectman in the years 1810 through 1816; and was a representative to the General Court of Massachusetts in 1815.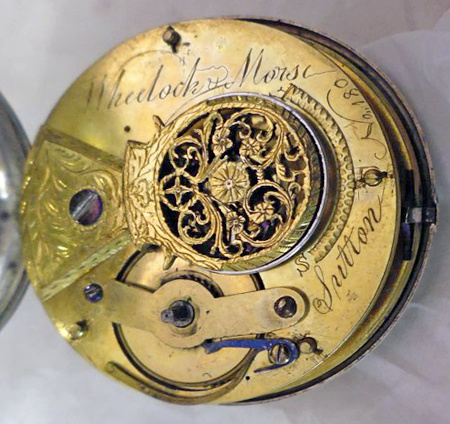 Watch, c 1800
Historic New England
Marked WHEELOCK & MORSE
Master to Moses Leland Morse 1795-1802 in Sutton MA.
It appears, from known watches signed WHEELOCK & MORSE, that the men were in a working partnership in the last years of Morse's term.
Josiah married Lucy Small on 16 Oct 1796 in Sutton MA.