Nathaniel Woodhull
Born: 30 Dec 1722, Brookhaven NY

Marriage (1): Ruth Floyd in 1761 in Brookhaven NY

Died: 10 Sep 1776
Events in his life were: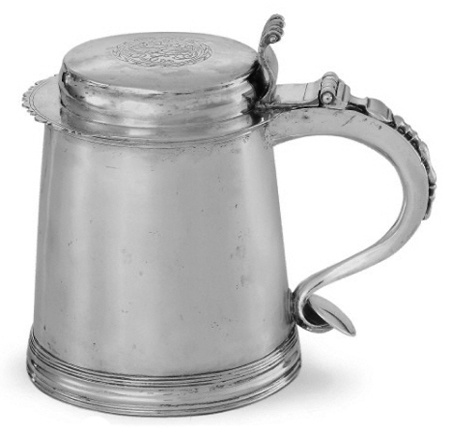 Tankard by Elias Pelletreau, 1761
Private Collection
h: 6 7/8"
wt: 29 oz
Engraved RF for Ruth Floyd, who married Nathaniel Woodhull. An entry in Elias Pelletreau's Account Book 2, p. 34, dated February 1762, lists a tankard made for Nathaniel Woodhull, of 30 oz / 3 pt / 12 gr, with charges for the fashioning at 2/6 per ounce and "Ingraving ye Sipher" for 6 shillings. The order also included a pepper box, milk pot and teapot, among other objects. It is likely that this commission constituted Woodhull's wedding silver.

Nathaniel married Ruth Floyd in 1761 in Brookhaven NY. (Ruth Floyd was born on 2 Feb 1731 in Brookhaven NY.)