George Birchmore Foster
Born: 9 Feb 1810, Salem MA

Marriage (1): Catherine Elizabeth Duncan on 18 Oct 1841 in Salem MA

Died: 24 Jun 1881, Boston MA
General notes:
Silversmith, jeweler, and watchmaker
Events in his life were: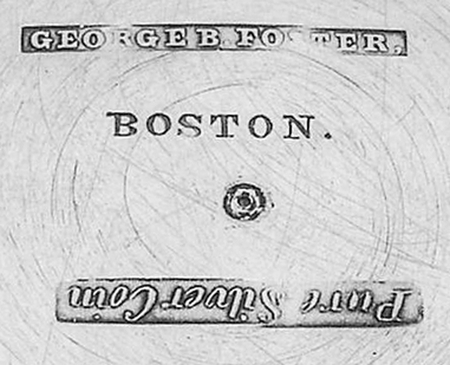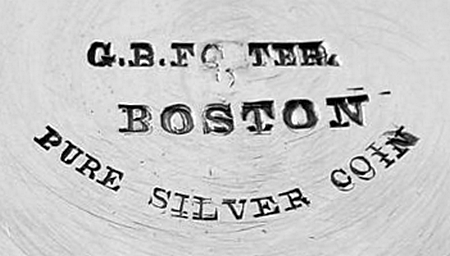 He was a partner in 1831-1840 with Edmund M. Currier in Salem MA as CURRIER & FOSTER with a shop at 11 Derby Square. 3
He worked circa 1840-1850 as a watchmaker in Boston MA for the firm of HARRIS, STANWOOD & Co.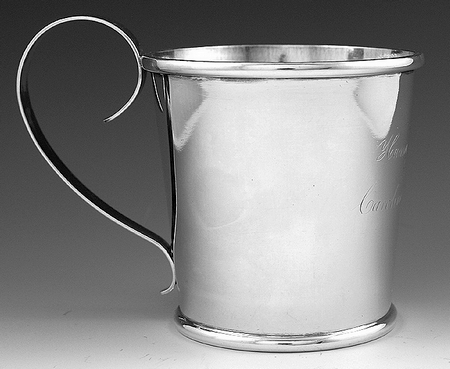 Cup, c 1840
Private Collection
h: 3 3/4"
wt: 4.5 oz
Engraved "Hannah Bemis / to / Caroline E. Bemis"
Teapot, c 1840
Metropolitan Museum of Art
h: 8 1/4"
w: 9 1/2"
wt: 20 oz, 19 dwt
He worked circa 1850-1870 as a watchmaker in Boston MA
Listed in city directories at 33 Tremont Street. In addition to watchmaking, he retailed silver hollow- and flatware.
George married Catherine Elizabeth Duncan, daughter of Unknown and Unknown, on 18 Oct 1841 in Salem MA. (Catherine Elizabeth Duncan was born on 12 Aug 1813 in Salem MA.)