Joseph Holt Ingraham
Born: 10 Feb 1752, York ME

Died: 30 Oct 1841, Portland ME
General notes:
Silversmith
Events in his life were:
Apprenticed about 1765 to John Butler in Boston MA 1
Noted in the journal of Reverend Thomas Smith
Flynt & Fales:, . 3 Moved to Portland 1768 and established himself in the silversmith trade. Home burned in 1775, but built first house in Portland after the bombardment and invested in real estate. In 1793 he built Ingraham Wharf, and in 1799 laid out State Street and gave this street, from Congress to the harbor, to the city. Opened Market Street from Middle to Fore and made other valuable gifts of real estate to the city . He served for 11 years as a Selectman and for 10 years represented Portland in the General Court of Massachusetts.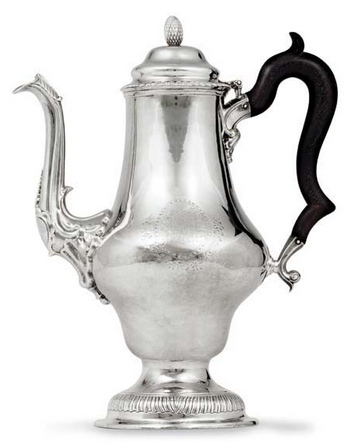 Coffeepot, c 1780
Private Collection
h: 12 3/4"
wt: 41 oz, 10 dwt