Samuel Jelly
Born: 29 Dec 1827, Salem MA

Marriage (1): Mary Jane Carleton in 1854 in Salem MA

Marriage (2): Julia M. Cushing on 28 Aug 1865 in Sacramento CA

Died: 24 Mar 1883, Sacramento CA
General notes:
Silver chaser, jeweler, and watchmaker
Events in his life were:
He worked circa 1850-1880 as a silver chaser and jeweler in Sacramento CA
From History of Sacramento County, California With Illustrations 1880 by Thompson & West:
"He embarked on the brig Christiana August 15, 1849, for California, and arrived in Sacramento February, 21, 1850. The brig was but twenty-one hours in making the trip from San Francisco to Sacramento. He embarked in the watch and jewelry business on Front street. He moved to J street, between Second and Third, and was burned out in the great fire of 1852. He went East in October, 1853, returning about 2 years later. He went East again in 1857 and returned in 1858. He moved to the corner of Fifth and J streets, and from there to his present store, a few doors below. At his store he has a complete assortment of watches, diamonds, jewelry, silver and plated ware."

Listed in the 1860 city directory at 124 J Street.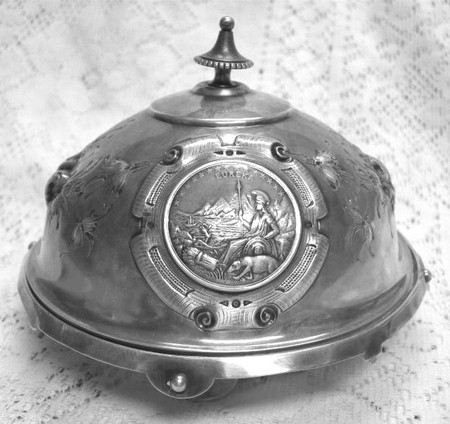 Butter dish, 1860
Private Collection
h: 4 1/4" (including finial)
d: 5 3/4"
Engraved MGB/1860 in a medallion of the California State Agricultural Society. The base form is by Gorham with applied medallions and chasing by Jelly. The Fine Arts Museum of San Francisco has a loving cup trophy with similar decorations.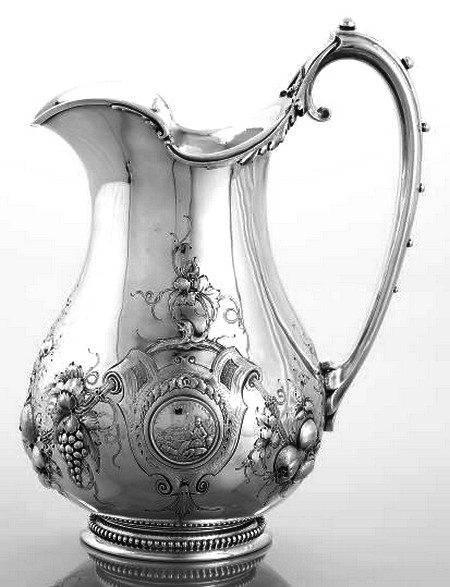 Ewer, 1860
Private Collection
h: 11 3/4"
wt: 33.54 oz
Engraved AWARDED BY THE CALIFORNIA STATE AGRICULTURAL SOCIETY, Bernard E. Fox for THE BEST Fruit Nursery, 1869. The base form is by Gorham with applied medallions and chasing by Jelly.
Samuel married Mary Jane Carleton in 1854 in Salem MA. (Mary Jane Carleton was born in 1829 in New Hampshire and died on 6 Oct 1856.)
Samuel next married Julia M. Cushing on 28 Aug 1865 in Sacramento CA. (Julia M. Cushing was born in 1838 in Blue Hill ME and died in 1882 in Blue Hill ME.)