Ivory Hall
Born: 25 Aug 1795, Rumford ME

Marriage (1): Pamelia Lothrope Clement on 16 Jul 1821 in Concord NH

Marriage (2): Sarah Dow on 8 Aug 1837 in Concord NH

Died: 15 Nov 1880, Concord NH
General notes:
Silversmith, jeweler, and watchmaker
Events in his life were: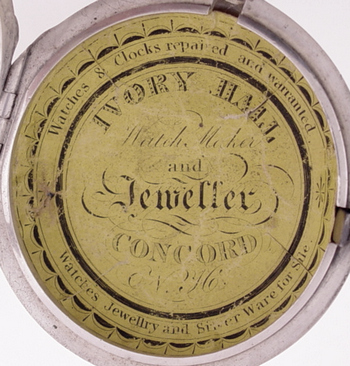 Watch paper
Private Collection

He worked circa 1815-1860 as a silversmith, jeweler, and watchmaker in Concord NH having taken over the shop of Isaac A. Hall. Concord Directories (1844) refer to him as "having been engaged for the last five years in the manufacture of silver spoons for New York and Boston markets." Listed in the 1850 directory at 224 Main Street. 3
Advertised in the Concord Observer and New Hampshire Patriot & Daily Patriot (Concord NH), 1819-1827, presenting a long list of articles for sale. 3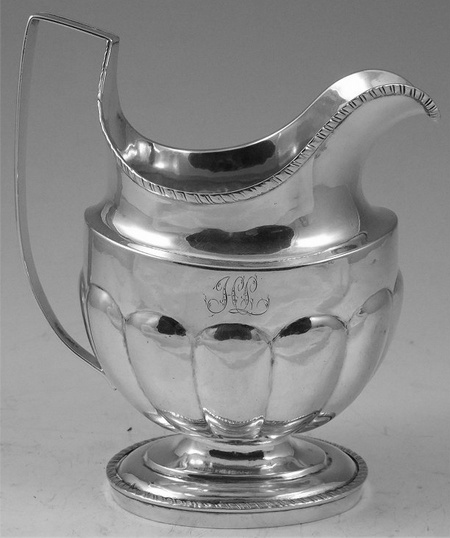 Creamer, c 1820
Private Collection
h: 5 5/8"
w: 4 3/4"
Advertised in the Daily Patriot (Concord NH), 5 Jun 1841, referring to gold and silver watches and manufacture of silver spoons. The same ad ran on June 6, 1844. 3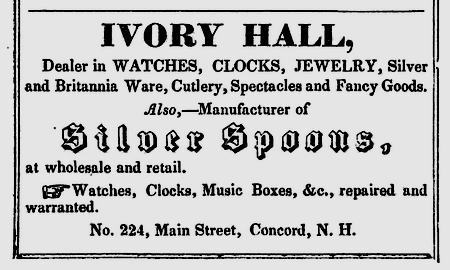 Advertised in the Watson's Concord Directory (Concord NH), 1850,
Ivory married Pamelia Lothrope Clement on 16 Jul 1821 in Concord NH. (Pamelia Lothrope Clement was born on 16 Jul 1799 in Pembroke NH and died on 11 Jan 1835 in Concord NH.)
Ivory next married Sarah Dow on 8 Aug 1837 in Concord NH. (Sarah Dow was born on 10 Apr 1813 in Concord NH and died on 15 May 1891.)