Leonard B. Yale
Born: 23 Jul 1847, Utica NY

Died: 12 May 1897, Gloversville NY
General notes:
Jeweler
Events in his life were:
He worked circa 1865-1870 as a jeweler in Gloversville NY and a good part of the time in the shop of Alfred Darrow Norton.
He was a partner circa 1870-1897 with Henry Augustin Dillon in Gloversville NY as YALE & DILLON, with a shop at 17 South Main Street.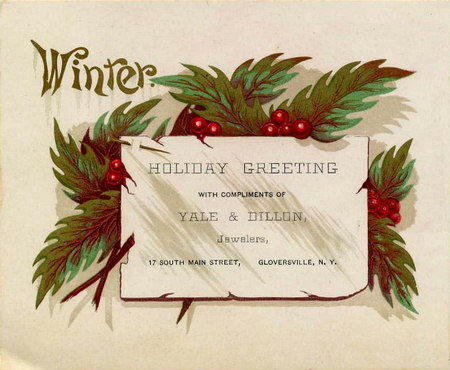 Tradecard, c 1880
Private Collection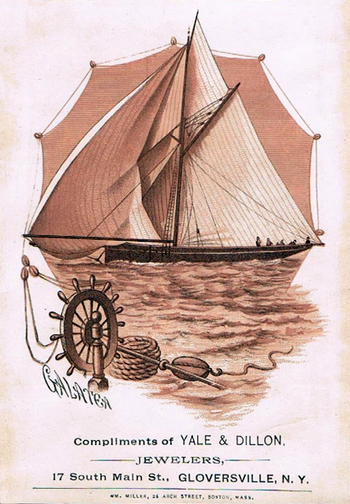 Tradecard, c 1880
Private Collection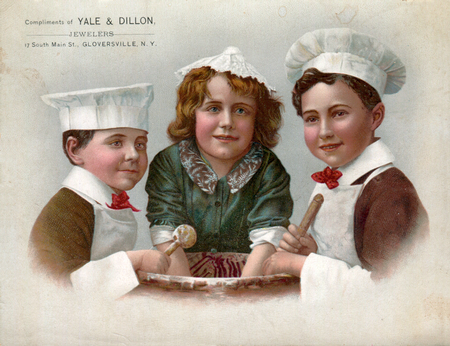 Tradecard, c 1880
Private Collection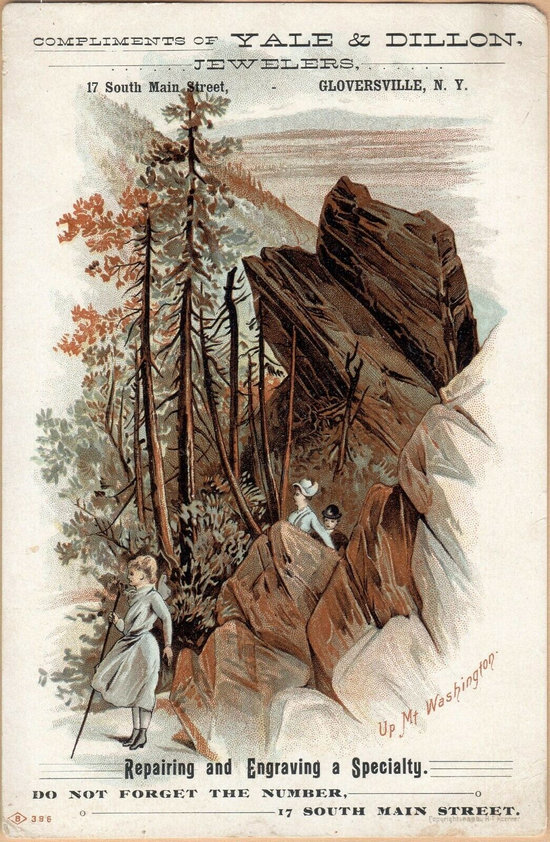 Tradecard, c 1880
Private Collection

Obituary printed in the The Jewelers' Circular and Horological Review on 19 May 1897
Leonard B. Yale Dies Suddenly from Apoplexy.
Gloversville, N.Y., May 13. -- Leonard B. Yale, of Yale & Dillon, jewelers, of this city, dropped dead at the residence of Isaac Scott, Jamestown, shortly before 4 o'clock p.m. yesterday. Mr. Yale had called at the home of Mr. Scott to repair a clock. He had examined the clock and said it was too fast. He had made some changes in the same, and seated himself on a sofa in the parlor. He had been seated but a few moments when he put his hand to his head and complained of an awful pain here. He asked Mrs. Scott for a glass of water and she went into the kitchen to procure the same. When she returned she found that Mr. Yale had fallen from the sofa to the floor.
A physician was immediately brought. He found that Mr. Yale was still breathing faintly and speedily injected a hypodermic syringe full of whiskey. He failed to rally, however, and within a few moments breathed his last. The physician said the cause of death was apoplexy.
Mr. Yale came to Gloversville from Rome about 30 years ago, and for many years was employed by Alfred D. Norton. About eight years ago he formed a partnership with Harry A. Dillon, and since that time they have conducted a jewelry business under the firm name of Yale & Dillon. The deceased was about 50 years of age and was recognized as one of Gloversville's leading business men and citizens. He is survived by a wife.