James Emery
Born: 14 Dec 1820, Belfast ME

Marriage (1): Matilda Goodale Harvey on 1 Jun 1844 in Bucksport ME

Marriage (2): Caroline Elliot Harvey on 2 Aug 1853 in Bucksport ME
General notes:
Jeweler
Events in his life were:
He was a partner on 21 Apr 1843 with Phineas Parkhurst Quimby in Belfast ME as QUIMBY & EMERY, as noted in Republican Journal. 3
Advertised in the Bangor Daily Whig and Courier (Bangor ME), 18 May 1861, as part of a group endorsement of the Waltham Watch Company.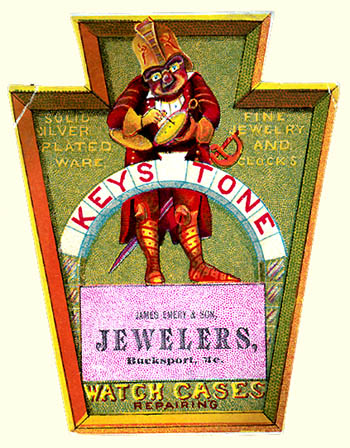 Tradecard, c 1880
Private Collection
For JAMES EMERY & SON.
James married Matilda Goodale Harvey, daughter of Unknown and Unknown, on 1 Jun 1844 in Bucksport ME. (Matilda Goodale Harvey was born about 1822 in Bucksport ME and died on 13 Jul 1852 in Belfast ME.)
James next married Caroline Elliot Harvey, daughter of Unknown and Unknown, on 2 Aug 1853 in Bucksport ME. (Caroline Elliot Harvey was born in 1821 in Bucksport ME.)