John Osgood
Born: 20 Jun 1770, Andover MA

Marriage (1): Sarah Porter on 4 May 1797 in Haverhill NH

Died: 29 Jun 1840, Haverhill NH
General notes:
Silversmith and clockmaker
Events in his life were:


Apprenticed circa 1783 to Michael Carleton in Bradford MA

He worked circa 1793-1817 as a silversmith and clockmaker in Haverhill NH well known as a silversmith and maker of clocks. His shop "had two rooms, the front one a salesroom and the rear one a work shop where was a forge for melting the brass for the clocks, and the old Spanish dollars for the spoons, shoe and knee buckles." 3
Advertised in Spooner's Vermont Journal,, 4 Nov 1793,
JOHN OSGOOD, Most respectfully informs his friends and the public, that he has lately opened a shop at the south end of Mr. John Montgomery's house; where he carries on the Clock and Watch business, with neatness and dispatch, and the least favors accepted by him.

N.B. Country produce taken in part pay for clocks.

Haverhill, Coos, Oct. 26th, 1793
Appointed after 1795 as Sealer of Weights and Measures in Haverhill NH
He was later appointed Town Clerk and Treasurer 3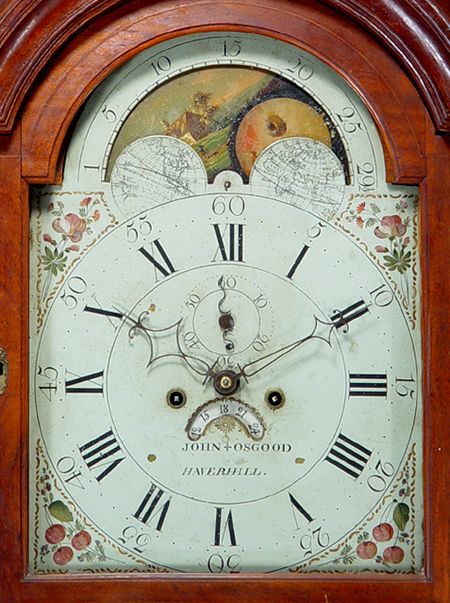 Clock, c 1800
Private Collection
photo courtesy of Gary R. Sullivan Antiques Inc.
John married Sarah Porter on 4 May 1797 in Haverhill NH. (Sarah Porter was born on 27 Apr 1777 in Haverhill NH and died on 5 Feb 1859 in Haverhill NH.)