Ebenezer Eastman
Born: 15 Jun 1804, Danville VT

Marriage (1): Sarah Morrill on 17 Jul 1828 in Danville VT

Died: 24 Aug 1853
General notes:
Silversmith, jeweler, and watchmaker
Events in his life were:
Advertised in the Farmer's Herald (Saint Johnsbury VT), 13 May 1829, announcing that he ". . . continued to carry on the gold- and silversmith and also the watch- and clockmaking business in Danville . . ." and that "". . . the silver and gold work he manufactured was sold as cheap as could be purchased in any other place. . .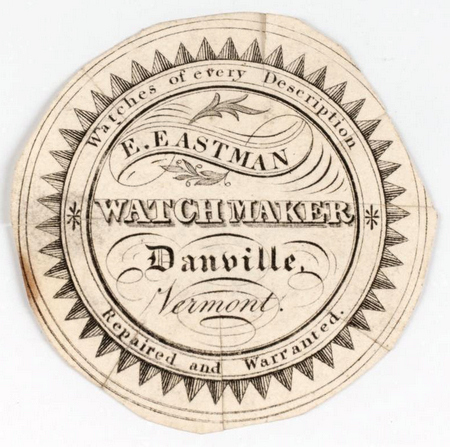 Watch paper, c 1835
American Antiquarian Society

Ebenezer married Sarah Morrill on 17 Jul 1828 in Danville VT. (Sarah Morrill was born on 23 Jun 1807 in Danville VT and died on 5 Oct 1872.)