James Kirkham
Born: 24 Apr 1821, Newington CT

Marriage (1): Frances Kirkham on 6 Nov 1846 in Springfield MA

Died: 8 Feb 1893, Springfield MA
General notes:
Jeweler
Events in his life were:

, . An able financier; a member of the common council and its president in 1856; an alderman in 1883; a director in the Mutual Fire Assurance Company, Street Railway Company, and City Library Association; treasurer of Oak Grove cemetery.
He worked 1837 To 1845 as a clerk in Springfield MA in the shop of Henry Sargeant, jeweler.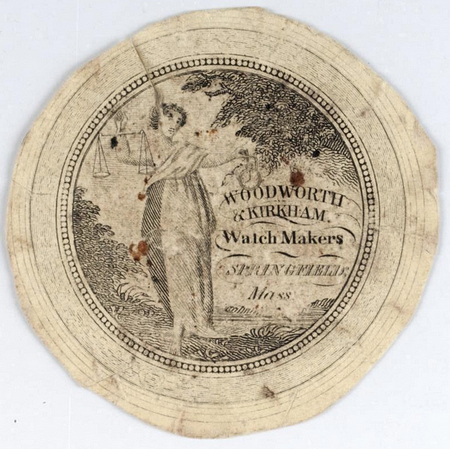 Watch paper for WOODWORTH & KIRKHAM, c 1845
American Antiquarian Society


He was a partner in 1845-1852 with Earl Woodworth in Springfield MA as WOODWORTH & KIRKHAM.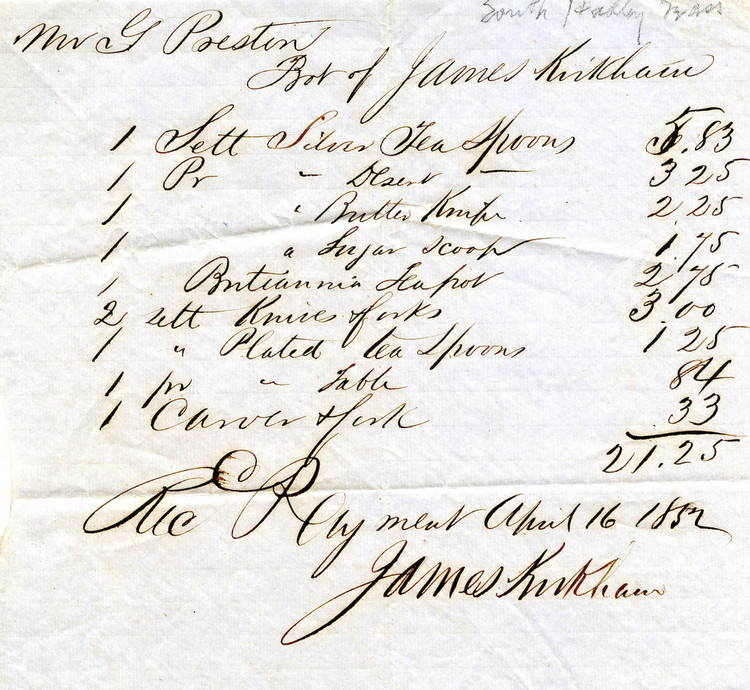 Receipt, 16 Apr 1852
Winterthur Library

He worked in 1858-1892 as a banker in Springfield MA
He served as the president of the Pynchon Bank from 1857 to 1862 and then the First National Bank after its organization in 1863.
James married Frances Kirkham, daughter of John Butler Kirkham and Betsy Wilson, on 6 Nov 1846 in Springfield MA. (Frances Kirkham was born on 8 May 1823 in Springfield MA and died in Springfield MA.)