John Wiswall
Born: 15 Apr 1731, Boston MA

Marriage (1): Mercy Minott on 21 Nov 1761 in Brunswick ME

Died: 2 Dec 1812, Wilmot Nova Scotia
General notes:
Example
Events in his life were: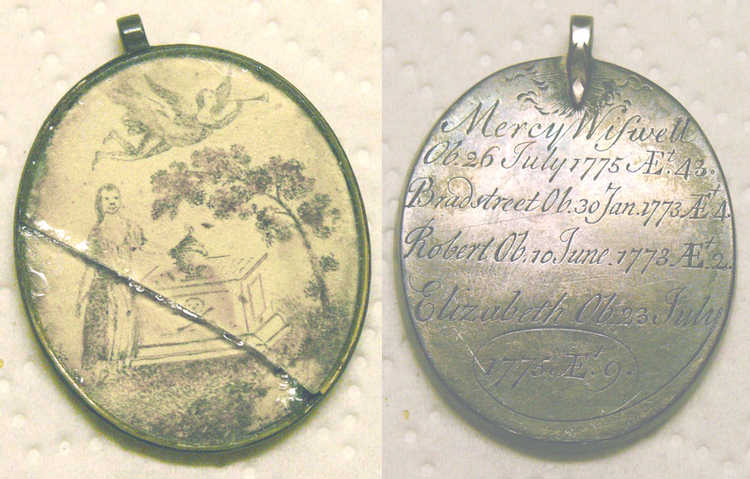 Memorial pendant, attributed to Samuel Minott, c 1775
Private Collection
l: 1 1/2"
w: 1 1/4"
Engraved on back "Mercy Wiswell Ob. 25 July 1775 AE+43 / Bradstreet Ob. 30 Jan 1773 AE+4 / Robert Ob. 10 June 1773 AE+2 / Elizabeth Ob. 23 July 1775 AE+9" for Mercy (Minott) Wiswall and three of her children. The piece is unmarked, but attributed to Minott based on Mercy's family relationship to him, John Wiswall's Tory sympathies and presence in Boston at the time, and Minott's known inventories of such goods.
John married Mercy Minott, daughter of John Minott and Unknown, on 21 Nov 1761 in Brunswick ME. (Mercy Minott was born on 11 Jul 1732 in Boston MA and died on 25 Jul 1775.)