George Henry Whitford
Born: 24 Jul 1829, Billerica MA

Marriage (1): Martha Ann Stickney on 11 Aug 1854 in Concord NH

Died: 2 Dec 1906, San Diego CA
General notes:
Silversmith and jeweler
Events in his life were:

He was a partner in 1856-1857 with Abiel Carter in Concord NH as CARTER & WHITFORD. 3

He was a partner circa 1857-1864 with George Winslow Drew in Concord NH as WHITFORD & DREW with a shop at 184 Main Street.
New Hampshire Agricultural Society 1857, Concord NH. The firm of WHITFORD & DREW awarded $5.00 for the best exhibition of silverware. William B. Durgin was awarded second place.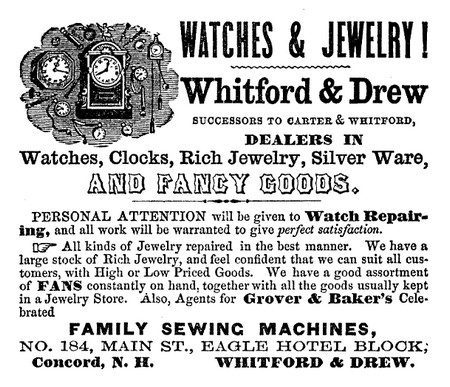 Advertised in the The White Mountain Guide Book, 1858,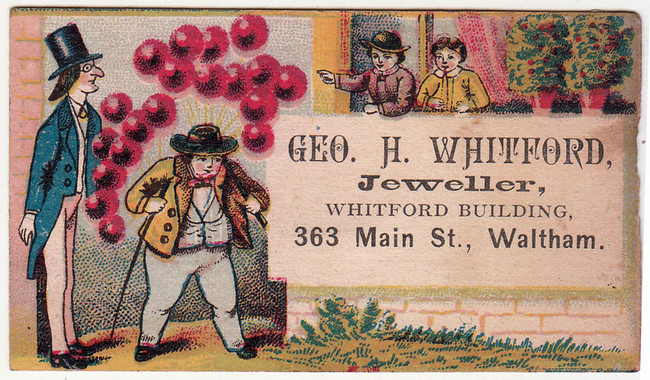 Tradecard, c 1875
Private Collection

He was a partner circa 1890 with Robert B. Johnson in Waltham MA as WHITFORD & JOHNSON, with a shop at 663 Main Street. Whitford also maintained a second firm in Boston as G. H. WHITFORD & Co at 421 Washington Street.
Tradecard, 1892
Private Collection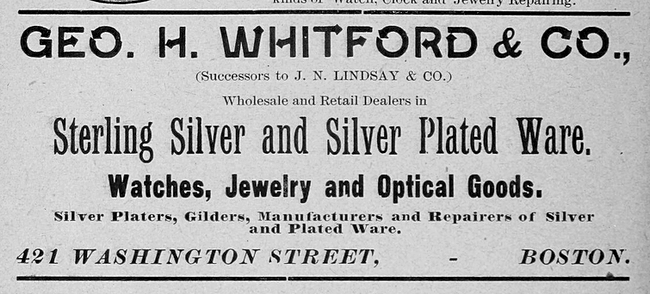 Advertised in the Waltham and Watertown Directory, 1895,
George married Martha Ann Stickney on 11 Aug 1854 in Concord NH. (Martha Ann Stickney was born on 11 Oct 1835 in Concord NH and died on 21 Feb 1903.)