John Danforth
Born: 19 May 1816, Middletown CT

Marriage (1): Mary Eliza Curtiss on 3 Sep 1838 in Middletown CT

Died: 20 Feb 1886
General notes:
Jeweler
Events in his life were:
He worked in 1841 as a jeweler in Hartford CT 12
He was a partner in 1844-1845 with Samuel Brewer in Hartford CT as DANFORTH & BREWER, with a shop in the Exchange Building, 6 State Street. 12
Advertised in the Geer's Hartford City Directory (Hartford CT), 1845,
Danforth & Brewer, Dealers in Clocks, Watches, Jewelry, Fancy Goods, Silver and Plated Spoons, Gold and Silver Spectacles, &c. Watches and Jobs repaired, inferior to none, and warranted to give satisfaction or money refunded. Exchange Buildings, 6 State St.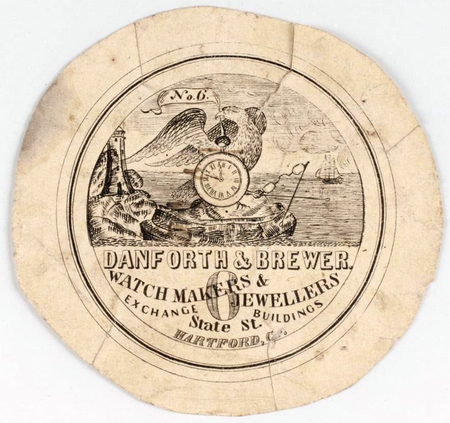 Watch paper for DANFORTH & BREWER, c 1845
American Antiquarian Society

He worked after 1845 as a jeweler in Hartford CT 12
He worked in 1849 as a jeweler in San Francisco CA
While in New York City, he became a prominent leader in the Temperence movement. At the start of the gold rush, he left for California, arriving in San Francisco on 30 June, 1849. He likely engaged in his trade in some manner, but devoted most of his efforts to temperence work.

John married Mary Eliza Curtiss on 3 Sep 1838 in Middletown CT. (Mary Eliza Curtiss was born about 1820 in Hartford CT and died on 14 Feb 1858 in Oswego NY.)