William Hills Safford
Born: 10 Nov 1850, Manchester MA

Died: 11 Feb 1909, Seabreeze Volusia FL
General notes:
Jeweler and watchmaker
Events in his life were:
He was a partner circa 1875-1880 with John Enoch Lunt in Newburyport MA as SAFFORD & LUNT, with a shop at 19 Pleasent Street.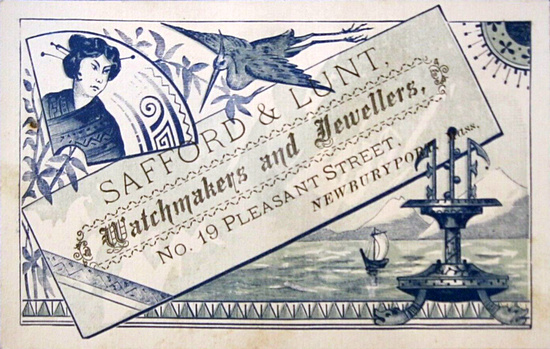 Tradecard for SAFFORD & LUNT, c 1875
Private Collection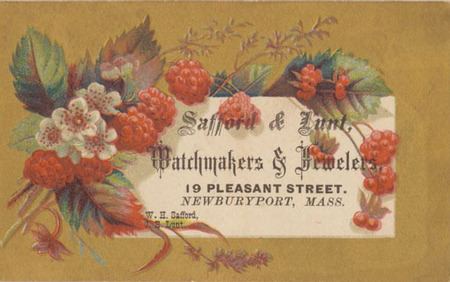 Tradecard for SAFFORD & LUNT, c 1875
Private Collection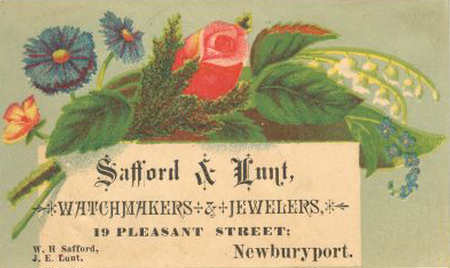 Tradecard for SAFFORD & LUNT, c 1875
Private Collection

Obituary printed in the Newburyport News (Newburyport MA) on 12 Feb 1909
News of the unexpected death of William H. Safford in Seabreeze, Fla. yesterday was received with deep regret at his home in this city. He had not been in good health for a number of years past, but if was not anticipated that the end was near. Mr. Safford went to Florada on Christmas Day with hope that the change in climate would be of benefit to him and for a time it was believed he was improving. It was while at Seabreeze that he was attacked by a sudden ill turn and on Monday Mrs. Safford hastened to his bedside. She arrived Wednesday evening and was with her husband until he died. The deceased was highly respected and his demise seems untimely. He was 58 years of age and an expert watchmaker. For many years he was in partnership with John E. Lunt under the firm name of Safford & Lunt but in recent years he had been in business on Pleasent St. Mr. Safford was a member of St. John's Lodge F. &. A. M., King Cyrus Chapter R. A. M. and Newburyport Commandary No. 3 K. Y. and of Merrimac Lodge No. 31 A. O. U. W. Mr. Safford leaves a wife, four sons, Arthur E., John L., William H., Jr., and DeLoid Safford and three brothers, Capt. Charles N. Safford of this city, Edward A. Safford of Waltham and Fred H. Safford of Lowell. Arrangements for the funeral will be made after the arrival of his family and the remains from Florida.