William Cleveland
Born: 20 Dec 1770, Norwich CT

Marriage (1): Margaret Falley on 19 Dec 1793 in Westfield MA

Died: 18 Aug 1837, Black Rock NY
General notes:
Silversmith
Events in his life were: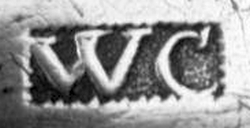 He was a partner in Aug 1792-1794 with John Proctor Trott in New London CT as TROTT & CLEVELAND. The partners made joint land purchases in 1792 and 1793. Dissolution of the firm was announced in The Connecticut Gazette. 3
Appointed in 1812 as Deacon in First Congregational Church Norwich CT 3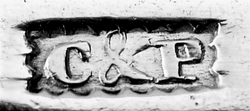 He was a partner circa 1815 with Samuel Post in New London CT as CLEVELAND & POST. 3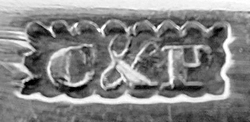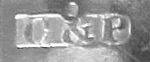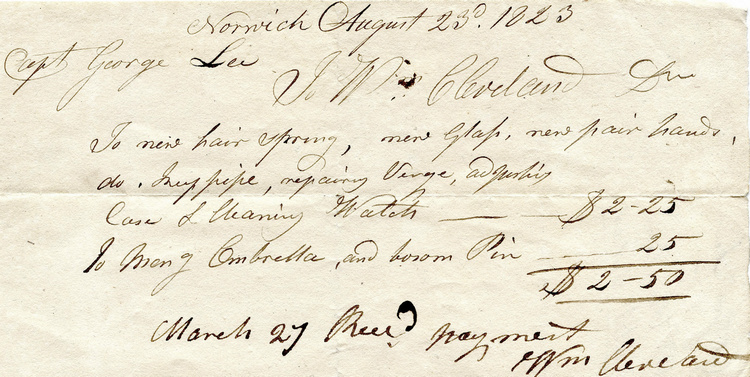 Receipt, 23 Aug 1823
Winterthur Library

Flynt & Fales:, . 3 Conflicting dates and locations are given by authorities for activities in the latter part of his life. Marshall, in Modern History of New London County, says "[Cleveland] later lived in Worthington and Salem, Mass . . . . and in Zanesville, Ohio, where he was associated with a Mr. Bliss." The latter place and association is an error; John Bliss' partner was Francis Cleveland.
William married Margaret Falley on 19 Dec 1793 in Westfield MA. (Margaret Falley was born on 25 Nov 1766 in Westfield MA, christened on 30 Nov 1766 in Westfield MA and died on 10 Aug 1850 in Buffalo NY.)